This life is uncertain, and you need to be prepared to deal with the uncertainties in several ways. Most of the suffering and problems come into our life because we don't have money. Falling apart due to not being financially stable is one of the common things that happen to people. Therefore, planning your financing at the earliest is the key to a successful life.
As a matter of fact, many people know about the importance of financial planning because they want to lead a peaceful life in their young as well as old age. However, they don't make the right plans because they do not know how to do the planning. Due to this, people are recommended to use a personal financial planner.
It is a simple spreadsheet tool that has been created to help people who want to get themselves together in terms of their finances. This tool is helpful because it enables everyone to manage their finances whether the user is self-employed, working in a company, a housewife, a student doing a part-time job, and whatnot.
How does a personal money planner help the user?
Finance planning does not always mean saving more and spending less. Rather, it means to spend in a sensible way considering your income and goals. The personal planner draws the attention of the person towards the aspect of financial planning. It lets people consider what they might not have considered if they had not used this planning tool.
There are different aspects of the financial life of a person that this planner wants to know about. After getting essential details, it makes a concrete plan for the user to follow. The best thing about using this planner is that it does not generalize everyone's financial life and gives a result depending on what a person earns and what goals he has in his life to meet.
The basic information this planner needs includes:
Information about the income of the person
Information about the total expenses of a person every month.
The total budget of the user.
Amount of debt the user is bound to pay back
How to use the planner for effective planning?
When you want to plan in an efficacious way, make sure you consider the following tips:
Set realistic financial goals that you can easily meet with a little hard work and proper planning.
Make sure that you provide accurate details to the planner to get desired and fruitful results.
You can easily get rid of the debts in a reasonable amount of time if you consider the debt paying off as your top priority. Remember that you cannot be financially stable if you don't unload the burden of debts.
Keep the ups and downs of your financial life and instability that often comes over time when you are planning your finances.
Preview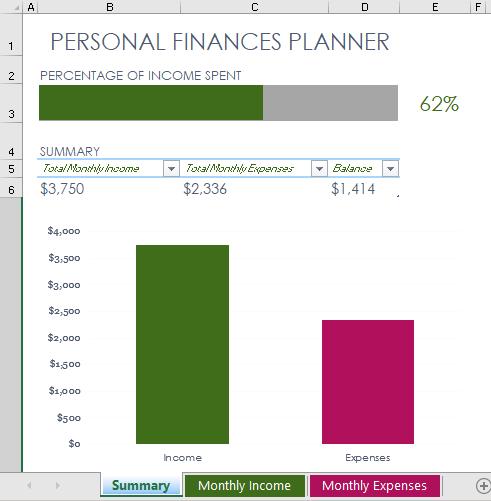 ---