A gift is something willingly given to someone without any payment. People around the world exchange gifts usually on some occasions.
It is a common saying that exchanging gifts among the loved ones makes a relationship stronger. Gifts are mostly given out on annual festivals like Christmas or Thanksgiving Day. We can present gifts on occasions like birthdays, bridal shower, baby shower, a farewell and for getting good grades in the exams. Hence, gifts are presented to make the moment happier and worth remembering. However, it is not mandatory to give gifts only if there are some celebrations; you can surprise your loved ones with a beautiful gift to give a message of love.
Some say gifts should be costly to leave a good impression on the receiver. This is correct to some extent but not the only truth.  The value of gifts depends on the occasions and the bond you share with the Recipient of the gift. We encourage giving out gifts to your friends and family even these are of less price, as gifts are the gesture of love.
A gift planner helps an Individual to keep a track of his gift lists along with the events. It organizes from where to shop and for whom.
What information does a gift planner highlight?
An ideal gift planner has mentioned columns:
Date along with the month of the event.
Who: for whom you want to purchase a gift.
What: what item you want to give out as a present.
Where: from where you can get the gift. Specify the store name along with the address and contact details.
Cost: the price of the article selected.
Notes: any relevant information can be saved along as a reminder.
This gift planner is easy to use. A digital gift planner can be download from the internet and can be used with a go.  Feed all the relevant dates and data and you are ready for a new experience.
What are the benefits of using a gift planner:
The gift planner helps for a streamlined and organized way to keep a track of the gifts giving events. The tool is time-saving for us, as we do not have to sit down and think what we liked to give as a present and from where we liked it and for how much. We have all the information saved in the planner and by just a click we can read it out.
The planner gives as an overview of the prices of the items we want to purchase, or we have already purchased as gifts. Thus, in this way, we can maintain our budget.  It helps us to cut down the extra costs and overspending. Giving gifts is appreciated but spending too much on this habit is not advised.
The tool highlights the date of the event. Along with other benefits, it does not let us forget any special occasion of our dears.
Preview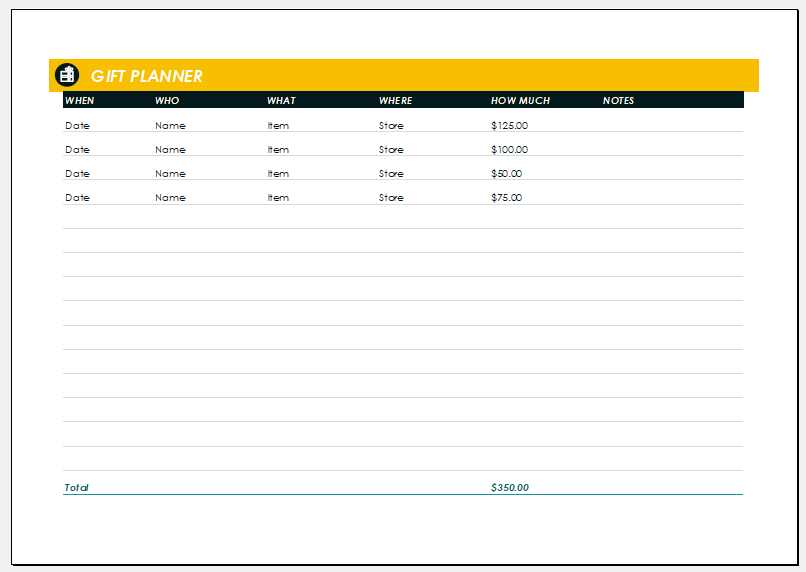 ---