The computer has become an integral part of almost every business. It not only keeps the important data of a company or a person secure but also helps in communication. These days, due to advancement in technology, people are relying on the computer.
No operation of a business can be performed without a computer. Due to the increased importance of computer, many companies have hired full-time technicians who are always available for providing repair services.
If you have skills in computer repairing, you can start your own business of computer repairing. The first thing that you will have to do after repairing the computer is to issue an invoice. It is always recommended to keep your designed invoice with you always.
How to design computer repair invoice:
The main purpose of issuing the computer repair bill is to let the customers know about the payment they are required to pay. The main details that are added to the repair bill are:
Tax details
Company's name
The name of the purchase
Description of all the services provided
Total amount to be paid by the client
Terms and conditions of the payment
It is important to highlight all those services which are subjected to sales tax and other types of taxes.
Computer repair bill:
It is very important to design a repair bill is such a way that is completely in accordance with your computer repairing business. You can also use the computer repair bill template which is very easy to use. These templates can easily be customized according to the needs of the customers.
There should be a space in the invoice where the details of all the services can be provided. Total charges of each service provided should be mentioned in front of the service.
The terms and conditions of the payment should be mentioned as they can protect you from the conflicts with your customers. Make sure that you total all the charges and mention the total payable amount for the customer.
Preview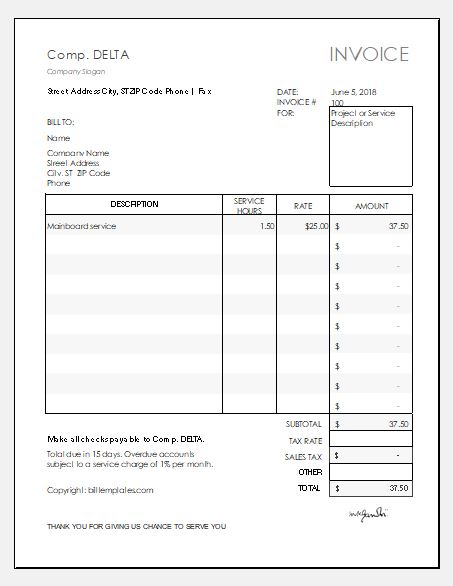 The template
Format: MS Excel [.xlsx]
Download
[Restricted use]
---