It is a huge hassle to deal with different clients who come to the auto repair shop for the services and repair of their automobiles. In order to make such dealing and payment easier, the auto repair shop owners can take the aid of auto repair invoice. They can even keep a record of all the auto repair billing of a month, year or more for their reference.
Auto Repair Services:
There is a huge list of auto repair services that a vehicle requires. It is mainly dependent on the condition of vehicle and client's demand too. A client may demand the car cleaning, claying, waxing, interior cleaning, painting, tires repair, clutch repair, windows repair, door repair, washing or other miscellaneous services. Auto repair services vary from client to client and so the billing amount would vary according to the services.
Vehicle And Services Information:
A professional auto repair invoice has the vehicle information. It is mandatory to write down details of the vehicle for which the services are provided. Write down all the services which are performed. Make a list of all services on the invoice. Mention the list of all the items that are sold while repairing the automobile. Enlisting the services provided is necessary as it makes both parties aware of the services taken and facilitates in charging the amounts for all the services listed.
Cost of Repair:
Mention clearly the cost of repair. If any of the products are consumed or replaced then include the charges for it too. The total cost of auto repair should be written clearly in order to avoid any sort of confusion. Mentioning the amounts separately and taking the total cost for granted can be confusing. There are huge chances of mistakes. The calculation of total cost of repair is written at the bottom of the invoice.
Benefits of Using an Invoice:
An auto repair invoice is a quick way of dealing with enormous customers professionally. Time is saved by using an invoice and chances of errors are prevented. It helps to achieve customer's satisfaction too as they rely on the invoice as a formal documentation of the services rendered.
Preview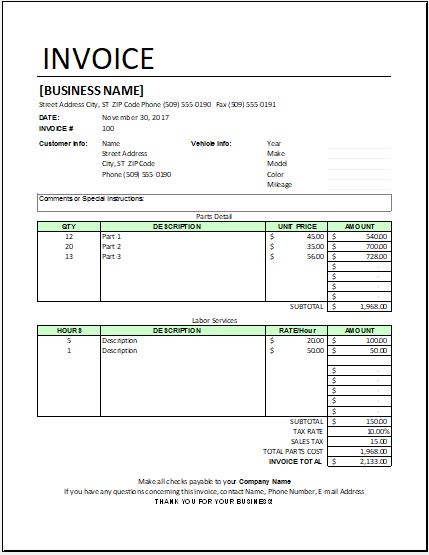 Auto Repair Invoice Template
Format: Microsoft Excel 2007-2013
File Size: 60 KB
---