Price Quotations with and without Tax
A Price quotation is an offer in a written form given by the vendor or service provider to the customer. It gives details about the purchasing and selling terms of the product or services with their cost in a defined period. A price quotation is a starting mark business transaction. You can compare prices of goods and services before accepting the quotation. When you put an element in the quotation form, you must specify the item quantity, unit price, and taxes.
The quotation form template has a small database page set-up that stores all the company details that will be included in the Quote. You can enable or disable the option to either add the tax or hide it. There is a customizable option for the color scheme. This page displays pre-defined country configuration for any applicable tax that the country charges with the implied currency.
Price Quote Portrait and Price Quote Landscape are the two sheets of such templates". You can lay out your form according to your choice
Components of price quotation
Date -the quote creation and sending date
Deadline of validity
Quotation a number for easy tracking
Customer ID and contact
Terms and condition
Company's contact
The price quote template can demonstrate any value added tax in percentage. The page mechanically computes the VAT/Tax percentage amount along with the Total Quotation value using the pre-formatted formulas. Fill in the details and get a print to have an approval from the client.
Download your file below.
Price Quotation with Tax
File Size: 32 KB
Download
Price Quotation without Tax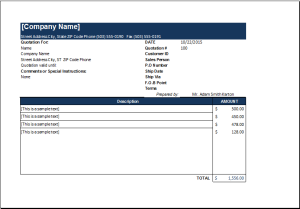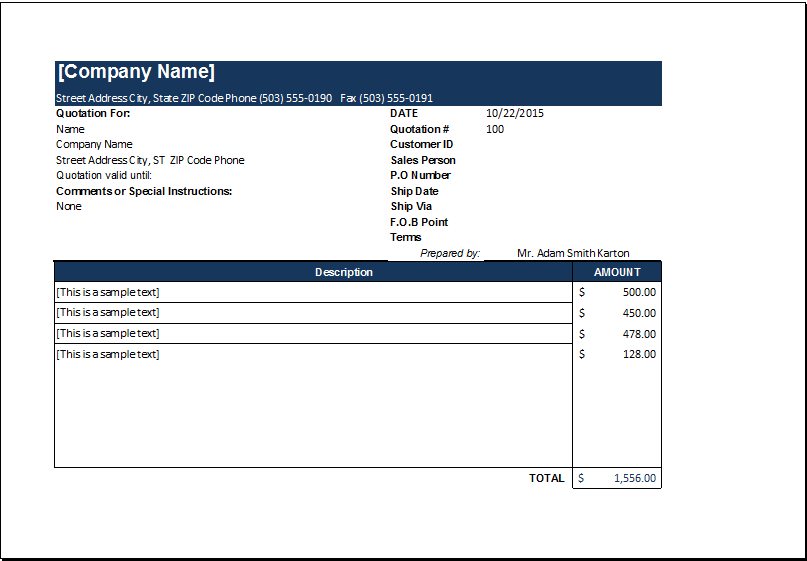 File Size: 31 KB
Download
---