An employee working in any organization can need to have a payslip whether he is on payroll or not. The payslip is used to summarize that how much an employee of an organization has been paid.
Everyone knows the importance paying the employee on time. Providing payslip is equally important. It is the obligation of any organization to provide the payslip to the employee along with his pay. The payslip should be issued on a paper. It can be in your own writing or can be electronically typed form. Always make sure before giving this slip to an employee that you have added a correct piece of information on it. The wrong information on the payslip can lead to many complications. It is also referred as salary slip.
The salary slip should be written in simple English. you should hand it over to each and every staff member of your organization confidentially. Make sure that your staff members can access their payslip whenever they want. Also keep a copy of payslip with you as a payslip is a proof that you have paid to the person.
You can get a very simple and easy template of payslip from the internet. It is totally free. All you have to do it to change the name of the organization. There are different types of salary slips; you can choose the one that meets the need of your organization.
About Template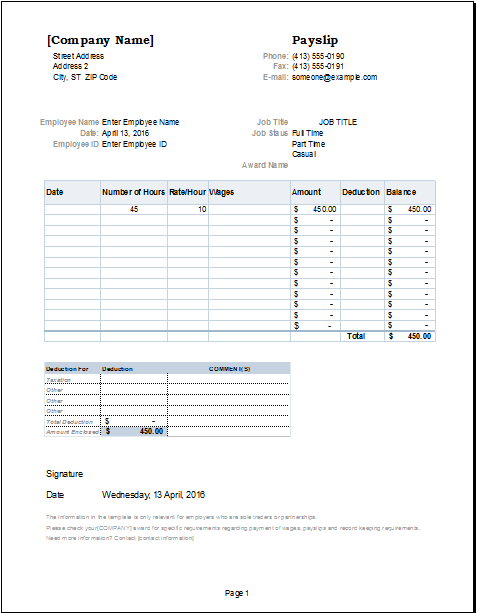 Preview of the template describe how it works. It has detail for the company, employee information along with wages and amount to be paid. A complete record can be maintained for the employee salary. Download and customize the template with your personal information. Print two copies: one for the employee and another one for the office record.
Download your file below.
File Size: 36 KB
Download
---
Preview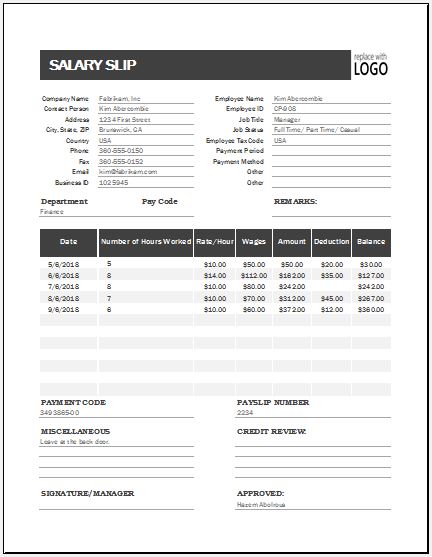 Payslip Template NEW
Format: MS Excel
---
---