What is a sign-up sheet?
A sign-up sheet is used in order to obtain information about the people. It is a kind of registration form in which, people show their willingness for participating in a particular activity or program. People fill this sheet by providing their names and contact details. It is a kind of number list in which people fill it one by one in sequence.
Where sign of sheets is used?
There are many organizations that use sign-up sheets for many purposes such as for keeping track of people attending a particular event and much more. When they want to keep tabs on attendance or when there is a seminar conducted by any organization, the sign-up sheet can be used.
The sign-up sheets are used to get information about the people who are interested in attending the seminar. Employees provide their information through a signup sheet when there is a training event being organized by their company and they want to record the number of hours they have attended that training event. Apart from this, there are many other situations in which using a sign-up of youth can be the best option.
Importance of using the sign-up sheet:
As it has been told earlier, a sign-up sheet is used when different kinds of information about different people are required to be obtained. When customers have to say something about business or if there is anything that the customer wants the business to improve, they can mention it in the signup sheet. In this way, this sheet helps the business improve its quality and satisfaction of customers through its products and services. 
There are many other situations in which using a sign-up sheet is crucial. For example, when a non-profit organization is recruiting volunteers for any social worker any social activity, people who are willing to work for social causes are needed to come up and show their willingness by filling the sign-up sheet.
So, it has been concluded that a sign-up sheet is used whenever there is an activity going to be conducted and people want to participate in that event and want to show their interest in that event. 
Sign-up sheet template:
This template can be used by people who are worried about creating the sign-up sheet from scratch. This is the best option available to all those people who want to get a signup sheet without putting in the extra effort. This template is created in Microsoft Excel.
The majority of people are well-versed in using Microsoft Excel. However, they are also given an opportunity to convert the Microsoft Excel template into Microsoft word template. They can also edit the template and then print it whenever they need to. Above all, the template allows the user to personalize it so that the user can change the design and the entire outlook.
Guidelines for creating sign-up sheet:
As a matter of fact, the sign-up sheet is used for registration purposes and therefore people should be provided with a clear and neat design of the form they need to fill to get registered. Due to this, it becomes very important to have a clear and clean design of the signup sheet. While you create this sheet, you should leave sufficient space in the sheet for people who need to fill the form and provide their information.
Another rule for designing the sign-up sheet is don't ask so many questions in the sheet. When there are lots of fields to be filled by people, they get annoyed and avoid filling such fields. No matter for what purpose the sign-up sheet is being used by you, always try to make sure that you ask only those questions that matter to you the most.
For many businesses, it is extremely important to get the sign-up sheet filled especially when they are conducting a kind of survey or registering people. For such businesses, the best idea is to offer an incentive to those people who fill the signup sheet. For instance, a business can offer its customers to sign up and avail a discount of 10 or 20 percent on their first purchase. This is the best way to entice customers to sign up and make a purchase.
Sample Template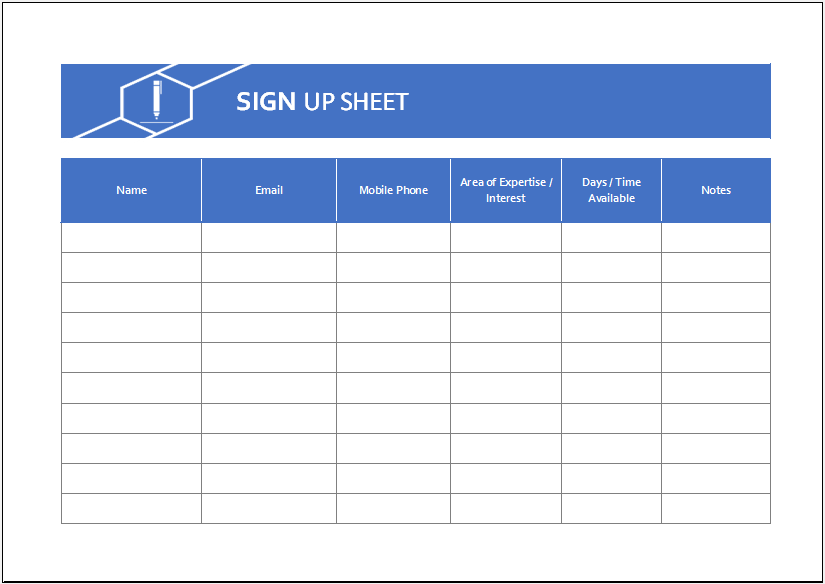 ---