What is petty cash reconciliation sheet?
It is an accounting document which is used in a business in order to perform the reconciliation of the paid vouchers and the physical petty cash.
The reconciliation of physical petty cash is one of the very important processes in every business. The main purpose of using this sheet is to get the complete and concise summary of the petty cash and the quantity along with the total number of paid vouchers.
How to create petty cash reconciliation sheet?
This sheet is started off with the title of the document. The main details of the company such as the name of a department and the managers should be given at the top of the sheet.
The date on which the sheet is being prepared and the amount of fund should also be mentioned at the top because they are the main details.
The details about the cash in hand should also be provided on the sheet such as details about cheques, currency, and total of both.
The next section of the sheet should be based on the information about the vouchers and receipts. This section should provide the information about the vendor, the voucher number, account details and total amount paid to the vendor.
At the end of the sheet, the reconciliation of the petty cash account is performed by adding the details such as total checks in hand; vouchers and receipts amount of funds and variance
The petty cash reconciliation template is a very useful for those people who want to avoid performing complex calculations manually. In order to ensure the accuracy of the results, the petty cash reconciliation sheet template can be used.
The template provided on this website is very easy to use and it includes all those details that are needed by a person for performing the reconciliation of petty cash. It contains many features that make it extremely useful and practical such as an automated system of reconciliation and a lot more. You can download this template and use it offline whenever you want.
Preview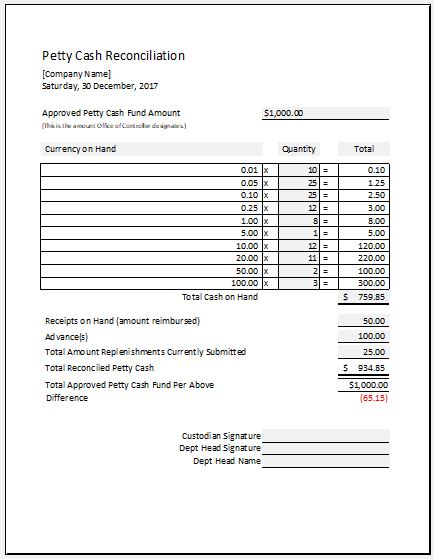 Petty Cash Reconciliation Sheet Template
Format: Microsoft Excel 2007-2013
File Size: 15 KB
---