What is a family tree?
A family tree is a diagram that shows a connection between the past and current generations. The connection between the generations is organized so that one can see how meaningful it is to generate the family tree.
Family tree generator template
This template is an intuitive tool that throws light on the people, events, and places that combine to form the history of the family. Whether you want to generate the family tree for your personal archives or for some educational projects, this generator is the best and easy-to-use tool.
What are some key features of the family tree generator template?
The features provided by any tool are what make the template useful or useless for the user. Every user pays attention to the features which are brought up by the template and then he decides whether he should use that tool or not. This template also has many useful features and functions that we are going to discuss in detail.
Customize the template according to your family
The family tree generator can be used to generate the family tree for your family with a very easy to understand diagram. This template tries to generate the tree which is very simple and also unique. All the intricate details of the family tree can be viewed in the diagram generated by the template.
The best thing about these templates is that they are very easy to customize. There are different shapes in the template which can be dragged and dropped into the family tree. Using these shapes is the best way to establish a relationship between different members of the family. Some people do not rely on the family tree diagram only. They also pay attention to the details of every family member in the diagram such as the date of birth, location of each family member, professional of each family member and what not. Through this template, the user can also add the pictures of each family member into the family tree.
Use the family tree generator to collaborate with all the family members
Through the use of the family tree generator, one can easily allow other family members to contribute to the family tree by researching. They can contribute from their own devices from their own location.
Now, with the use of this template, multiple family members of the family can make real-time changes to the generated tree simultaneously. They can also leave comments on the tree. You and other family members can also share this family tree with others through email, text message, etc.
Display the family tree in presentation mode
There is a presentation mode in the template through the use of which, you can present your family tree in the gathering. The presentation mode has provided ease and convenience to the user with which he can display the family tree. Using this mode, you can also highlight the main details of your family mentioned in the family tree.
Preview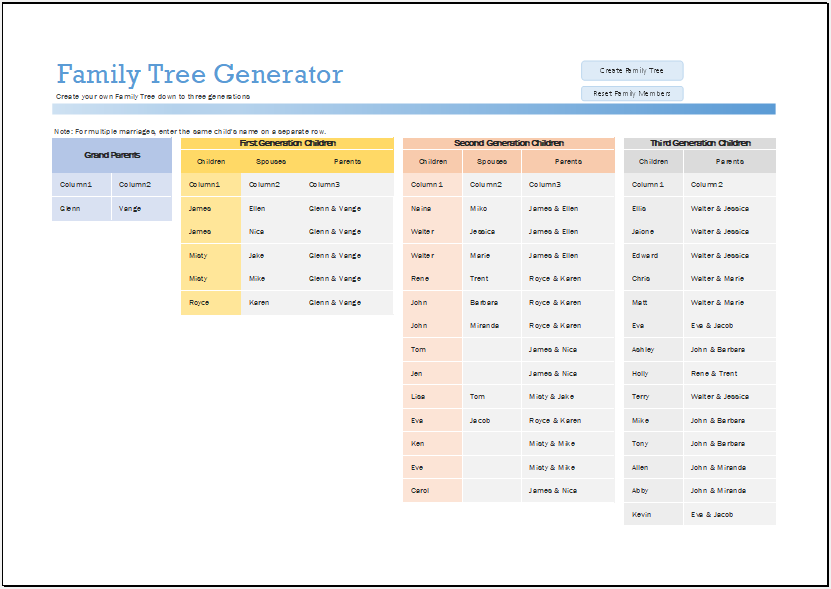 ---