Do you want to figure out how much you are spending on your family food? Are you spending too much on your household food? Create the household food budget for yourself and control your expenses.
Importance of creating household food budget template
It is very important for everyone to control the expenses in order to save money. You may run out of money in the middle of the month if you don't keep track of your expenses. In order to avoid this situation, it is a practical approach to make the household food budget.
When it comes to creating a healthy household budget, keeping the food expenses in consideration is imperative. The template created for making the household food budget is the best tool to be used for creating the basic and ideal food budget for your family
How to create a household food budget?
The budget is nothing but a comparison between income and expenses. If you want to make the budget, take your income and expenses into consideration. You should know how much you are actually spending on your household food.
Consider the number of people in your house. Also, consider the guests if you are going to invite them in the upcoming month.
Now consider how much you can afford to spend on the household budget for food. Enlist all the grocery items that you have been buying each month for your household kitchen.
Making an effective and practical budget to follow also requires you to take the prices of all the grocery items into consideration. Think carefully how much money you actually have to spend on the household budget.
On the basis of the prices of each grocery item and your salary, allocate a particular amount of budget to household food. After allocation, make the meal plan for every day. Make sure that you stay in the budget constraint while making the meal plan.
How to follow the household food budget?
For many people, making a budget is easy but following it is challenging. However, people can easily follow the budget if they keep following points in mind:
In order to follow the household food budget, make sure that the budget you create is realistic and easy to follow
Consider all the necessary details while making the budget so when to start following, you don't find out anything missing
Always give some margin to your expenses in the budget because there can be unexpected expenses too.
Household food budget template
Those people who want to use the budget but don't want to create it can use the template. The template will ask you to provide some basic details such as total income, number of family members, the type of food eaten usually and much more.
Once you provide all the required details, the template generates the household budget that people can easily follow without having to worry about the intricate details of budget planning.
Preview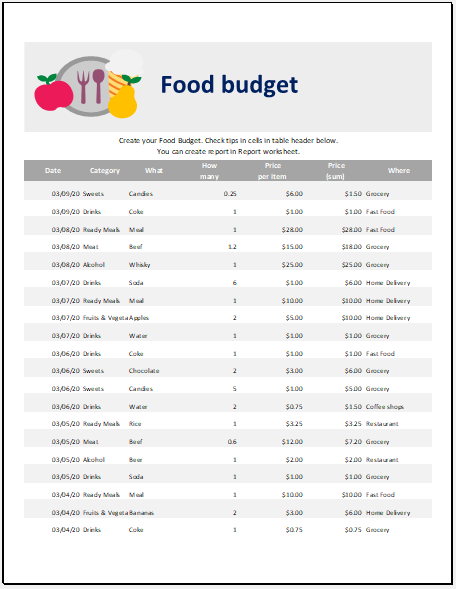 ---