Traveling with your friends and seeing the world together is one of the most enjoyable experiences in any person's life. When you are dreaming to enjoy a trip with your friends, there are challenges also. When it comes to managing your finances, it becomes really difficult for you to do with your friends because there are cravings to do much more. In addition, when a few of your friends have a higher budget than you, you try to meet their budget and hence, spend more than required.
What is a trip with friends budget sheet?
It is a tool that is used to manage the finances of the person who wants to go on a trip with his friends. How much budget you want to associate on the trip with your mates depends on how far you want to go and the activities you want to take part in. This sheet, if used effectively will never let you run out of money because you have spent more than what you initially planned to spend.
Why using a friend's trip budget sheet is necessary?
If you have a limited budget and there are so many other expenses that you can foresee, you are required to be careful as to how much you spend on the trip. We usually choose to go on the trip with our friends because we have extra money and we want to have some quality time with our mates.
You should never hold yourself back from enjoying your life to the full because you don't want to spend money and save more. At the same time, you need to be wary of your expenses so that a trip of two or three days does not give you regret for many weeks.
When you are out with your friends, you often forget about managing your expenses and end up spending more than what was initially decided. However, when you have a budget sheet with you, you will not be worried about spending more than needed.
How to use the budget sheet for your outing with friends?
Talk to your friends:
At first, it may not be compelling for you to use the budget sheet because it holds you back from spending too much, especially when you are with your friends. So, it would be convenient for you if you talk to your friends about this worksheet and ask them to use it with you. This way, all the trip activities will be planned based on the decided budget.
Get a template:
On various websites, you can find a readymade Excel sheet that is aimed at aiding people in budgeting their trips with friends. If you use these sheets, you will be mentally relaxed as it will save you from having to design your budget sheet.
When you are creating your sheet, you are required to learn various features and functions of MS Excel which is often time taking. To prevent this problem, using a template is the right approach. The template is usually found in an editable file format which means that the user can modify the format, details, and other features at his convenience.
Set realistic goals:
No budget sheet is going to work for you if you don't have realistic goals. So, before you embark upon using any tool, you should be able to set goals. Decide on how much money you currently have, how much you want to spend and on which activity, how much you want to save, and whatnot. When you have realistic goals, it becomes easy for you to fulfill those goals.
Make a list of activities:
Make a list of all the activities that you want to take part in when you go on the trip. Allocate a specific amount to transportation and ticketing because these are expenses that you cannot ignore or skip. Then, make a list of activities and then allocate some amount to them.
Set a budget constraint that you see every day when you are on a trip with your friends. This worksheet will keep reminding you to save more and stay within your limits while spending money.
Download the sample budget worksheet for your help.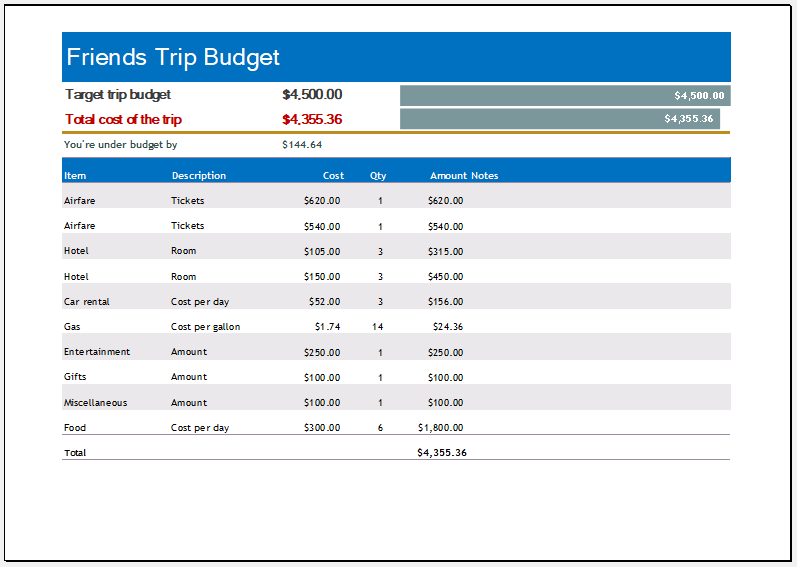 ---