An office party is a gathering of employees working within the office for a few hours of fun and entertainment. Some of these parties are arranged by office administration to provide their employees with carefree hours of enjoyment within each other company. Office parties may also be arranged by employees themselves to spend good time with fellow colleagues.
A useful tool to plan a party…
An office party budget worksheet is a tool that is used to plan and carry out the financial situation of an office party. It keeps the hype to a level that is affordable yet enjoyable so that everyone enjoys a good time without being worried about expenses.
Format of the worksheet
Budget worksheets are comprised of columns arranged in a tandem manner and each column represents a category. A list of all the tasks required for a great office party is mentioned in a column with the cost for each task mentioned in another column. This pattern allows the organizers to infer the cost of every individual task and make adjustments to stay within budget.
Categories to add to the table
Contents of an office party budget worksheet depend on the size of the party and the occasion of the celebration because annual office parties are usually extravagant and fun. Office employees are responsible for arranging these parties and they generally include the following categories.,
The major tasks of conducting a budgeted office party are to list down all the important tasks pertaining to the event.
Venue selection is very important because it should be large enough to accommodate a large crowd without suffocation or any other inconvenience.
Decoration of desired venue matters because these parties are viewed not only by competitors but also by potential clients through social media therefore, the decor of the event should be on point.
Food and beverages for everyone should be in ample amounts to avoid embarrassment.
Games and other fun activities should be arranged to engage employees in harmless fun, and they also allow employees to interact with one another.
Use of social media to spread the word about the party.
Sample budget worksheet
Generally, budget worksheets are prepared along with the preparations for the party's progress. The cost of every task is updated to make sure that the whole process is budgeted nicely.
Office Party Budget Worksheet
Date: ___________
Time: ___________
Theme: ___________
No. of attendees: ___________
| | |
| --- | --- |
| Tasks | Cost |
| Venue | |
| Decor | |
| Food | |
| Drinks | |
| Publicity | |
| Parking | |
|  OTHER- | |
| Total | |
Sample view
This sheet can be extended to include further categories to make it easy for yourself i.e., due date, source of money, and price of individual items. All the above-mentioned major categories can be divided into sub-categories for a complete breakdown of cost.
Budget worksheets are considered very important because of the following significant reasons,
Data is arranged in a highly manageable and organized pattern which helps not only organizers but other people as well.
Budget worksheets can be shared with other organizers to inform everyone about the expenses.
Listing each task makes it easier for every organizer to identify their responsibility.
It is a user-friendly method of making the budgeting process easier.
Budget worksheets can be extended for more convenience.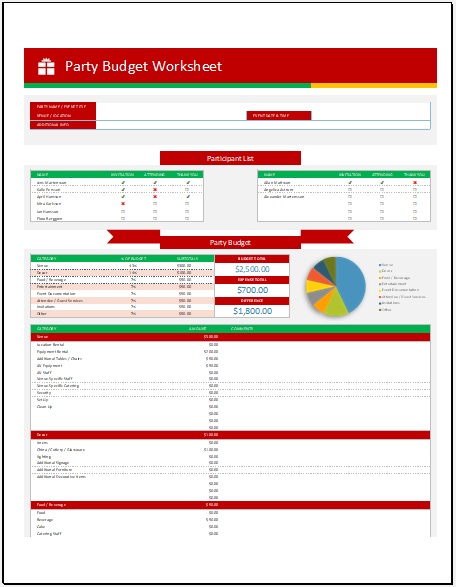 Excel Templates
---