The event in which you tie the knot with someone is one of the most important events of your life. You must have waited your entire life to celebrate this day with enthusiasm. Some people feel so carried away and excited about their big day that they don't realize they have spent much more than what they initially planned. They often go broke after celebrating their big day and regret it later.
Some wise people always believe in spending prudently. They want to know before the wedding event how much they can spend without going broke. So, they like to use a wedding expense sheet.
What is a wedding expense sheet?
A wedding expense sheet is a document that people use when they don't want to overspend on the event celebration. This worksheet enables people to track and manage the money they need to spend on organizing, planning, and hosting the wedding event.
Many people face a real challenge when they have to remain within their budget constraints while organizing the entire event. When they use this spreadsheet, they can plan and manage all the costs that are associated with the preparation of this event.
What is the purpose of using the big-day event worksheet?
People who don't know how much they should be spending often feel perplexed and confused. With this confusion, they often end up spending more than their affordability. To prevent this from happening to you, you can use a worksheet that will not only see your expenses but will also help you in allocating the budget to various aspects of the event preparation.
You can also set a limit to specify how much you can spend at most and then by staying within that limit, you can easily prevent yourself from overspending.
What information is provided by the wedding expense spreadsheet?
Here is a list of categories you can find in this worksheet:
Budget:
Those who are using this tool usually have a limited budget. Therefore, they always keep their budget into account. This worksheet has a specific section that is often allocated to different aspects of the wedding function. This budget value is an estimated value and actual numbers can differ from the estimated numbers.
Expenses:
There is another category of the worksheet that is used to record the information on all the expenses incurred. This worksheet shows the amount spent on various parts of the event such as the decoration of the hall, photography, photoshoot, catering, and much more. Again, if you don't know how much you will have to pay for getting these services, you will have to go with a rough estimate. This section usually breaks down the total event cost into smaller expenses to give a user a clear view of reality.
Actual expenses:
There is another section that is empty and filled by the user as he keeps spending money. Here, the actual expenses of the event are noted in front of the estimated expenses. This section usually involves the total amount the user has paid to buy different products and services for the event. This helps the user make a comparison between the actual and estimated costs in order to see the difference. This difference lets him know whether he has overspent or spent according to what was initially planned.
Details:
Another section of the worksheet takes the details regarding the expenses that the user often finds difficult to remember. These details often act as a reminder for the user. For instance, if there is a due amount, the user will never be late to pay it due to the worksheet.
The bottom line:
Various wedding planners as well as those who are going to host a party find it convenient for them to determine the cost, spending the money while remaining within their budget constraints at the same time. They can easily identify the areas where they will have to spend more and also those areas where they can make some compromises. This way, they can adjust the money and spend the available resources wisely. As a result, they prevent themselves from regretting later after the wedding event is over.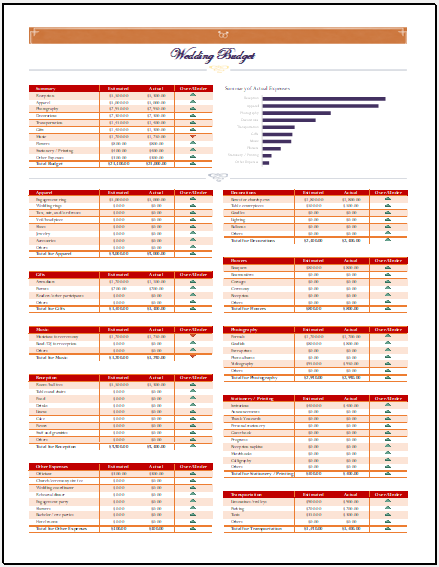 ---