Calendars are not just for adults. Kids also use them to plan their activities for the entire year. Depending on the personal choices of kids, these calendars are made colorful so that the interest of the kids in the calendar does not decrease.
A calendar is the best time management, planning, and scheduling tool. When kids are accustomed to using this tool, they learn to plan everything and make the best use of the available time.
What is a colorful calendar for KIDS?
A calendar with colorful themes and styles for kids is the best tool to teach them to plan everything in their life. Kids have to plan their studies, their school days, and holidays as well. The calendar lets them know about the holidays and various national days that are celebrated on national and international levels in schools.
What is any year colorful calendar for kids' templates?
The template is an MS Excel tool that kids use for getting the calendar of any year they want. The best part of using this template is that the user does not need to put effort into designing it. They can get this tool from various online websites and use them as they want.
What are the main features of the template?
Some common features of the excel template are:
They are easily accessible:
Kids don't need to do extensive research to find a calendar for their personal use since they can easily find it on various websites. The calendar template is generally available in MS Excel file format and allows the user to edit and download it for personal use.
The user can use it at any time:
Since it is any year's calendar template, whether a kid needs a calendar for the current year or any year in the future, he can use this template. The kid does not need to download a separate calendar template to get a calendar as he enters the new year.
The user can get the desired view:
Kids often have to see the number of holidays in one year and the days they have to go to school. When they use the template of any year's calendar, they get to know about different days in a different type of view. They can also get a separate view of holidays if they want to focus on holidays in one year.
The calendar is colorful:
Since this calendar is colorful, it is designed with various colors to develop the interest of kids in it. Different colors can be used to show different types of days in a year. Holidays are represented with a different color and school days are represented with a different color. This way, the information regarding each type of day becomes clear.
The template also allows people to highlight different important days in their schedules. Kids can learn to schedule and make timetables effectively if they develop the habit of using the calendar. The template helps them in numerous ways.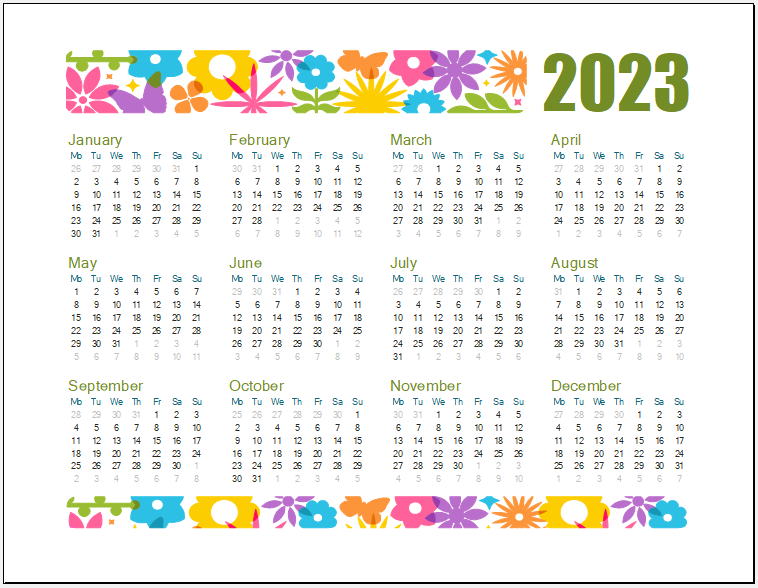 Excel Calendar File 55 KB
Excel Templates…
---