What is a check register?
A check register is basically used in the accounting department of any company for keeping the record of all the transactions. This enables the person to know how much he has in his checking account. The details of all the transactions are written in the check register.
Using the check register is effective when you have lots of transactions to make and record. As the number of transactions increases over time, it becomes more complex to keep the record of them. However, you can use these check registers very easily regardless of the number of transactions you have to track
What is the purpose of a check register?
Although there are many ways in which the transactions can be recorded people prefer using the check register because they provide plenty of space due to which, the user can keep all his transactions in one place. The chances of misplacing any of the records are also reduced due to which, people like to use the check registers invariably. The use of a check register is often done online. People like to use this online tool because it enables them to keep the big record in a small space with a sense of security.
What are the benefits of using the check register?
Since the check register is used to take down the record of all the checks used by the business, the business will have to consult the check register whenever it will in the need to see the record of a specific check.
Using the check register ensures that the record of all the checks is at hand. In other words, the user can access the details of the checking account no matter where he is and at what time he wants to check. The check register is available 24 hours a day.
If the check register is maintained properly, it can serve as a very useful tool. It should be kept in mind that this register requires the user to maintain it regularly. The user is required to fill the register whenever he has a new detail to add. If the user does not fill the register regularly, he will not be able to fulfill the purpose of using the check register
Check register template:
We can see that nowadays, it has become a very common practice to use the template of the check register. People like to use the template because the template makes the check register readily available. Furthermore, these registers are very easy to use. The user does not feel the need to create the check register for his own use when he gets the template because it is the best tool that serves the purpose of the register in the best possible way.
The user can download the check register template and then keep the record in the form of hard copy. However, it is a good practice to use the soft copy invariably since it provides more space.
Preview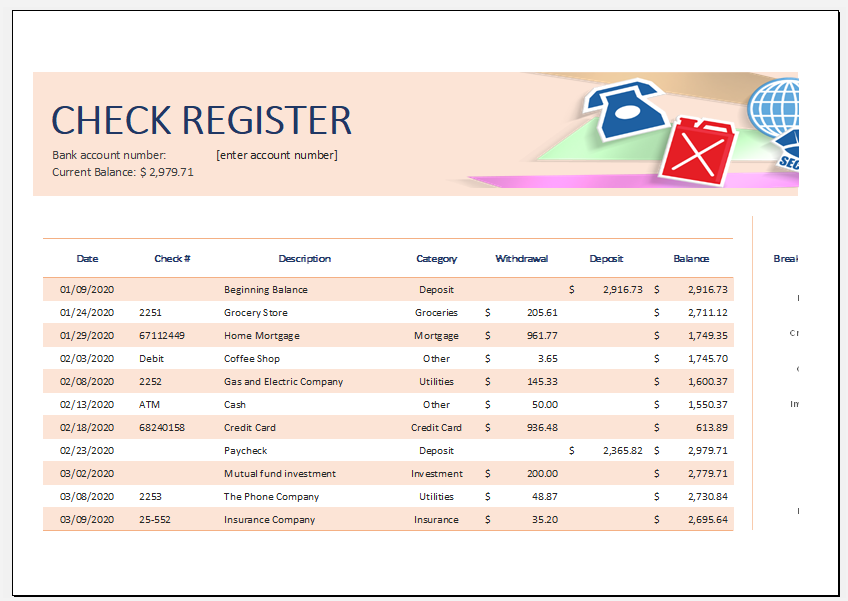 ---