Usually, we all go through a lot of activities during the day. Most of them are the part of our daily routine, but some of them occur rarely. A person normally forgets what task he has performed in the whole day or what tasks he needs to perform later. Here a need is generated from the use of a daily routine punch sheet.
Daily routine punch sheet is a tool, designed to help a person while carrying out his daily routine work. It helps him to remember all the important tasks he has to perform in the period of twenty-four hours, each day.
Daily activity punch sheet comprises of twenty-four hour period, mentioned in a column on the left side. Date and the name of the respective person are mentioned on the top. Every hour of the day has a blank row in front of it, which is filled by the person with the activities a person has to perform and has performed. Space is left for remarks at the bottom of the sheet about his daily activities.
These sheets can be used by the person for his daily home routine as well as for his daily office chores. A user can simply punch those sheets on his room or office wall according to the user's need.
These sheets are actually helpful for every person who have a busy routine life, even if she is house lady who doesn't want to forget to visit a nearby store for purchasing the item she needed in the kitchen or if he is a man who is working in the office and don't want to forget or miss any task, his boss asked him to perform. In fact, it is a need for every person of our era.
This sheet is very user-friendly, easy to maintain and easy to check and a few employees together can also use the single sheet by simply punching it on the notice board and adding the tasks accordingly. Here, all the employees can easily take a view of what they are doing next and how much they have progressed in a certain project.
Preview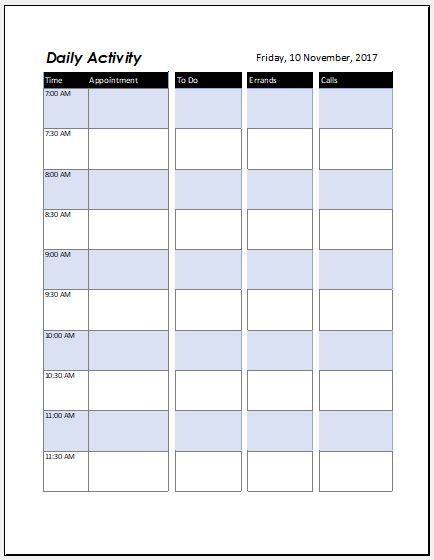 Daily Activity Punch Sheet Template
File Size: 18 KB | Format: MS Excel
---