An allergy trigger and symptoms table help an individual to keep a track of the allergies he suffers from food or environment. It keeps a record of allergy triggers and symptoms.
An allergy can be defined as a damaging immune reaction, that a body makes in response to different factors like food, the fur of animals, pollen, or dust. The human body becomes hypertensive to these things and shows a reaction.
Allergies can be food allergies, seasonal allergies, pollen allergies, pet allergies, and others. That is why an individual shall be aware of the factors that trigger his allergies. Allergies are very disturbing and can be fatal at times.
Allergies and useful information
If you suffer from many allergies or even a few, it is a good idea to have an Allergy Trigger and Symptom Table. This could be kept on so that you can record what allergies you have and the symptoms that result from them. This table will be helpful if you get an allergic reaction when you are out, the person with you or around you can consult that table to know that you are suffering from an allergic reaction.
When making or downloading one of these tables it is essential that they contain some information. It needs to contain:
The things that make you have an allergy
The symptoms that you get from that particular allergy
You can download one for free that can have the symptoms listed at the top. In the columns, you will list the symptoms that occur from allergic reactions. The symptoms can include running nose, hives, rash, your facial color changing, scratchy throat, itching, your face swelling, cramping, difficulty in breathing, constipation as well as diarrhea. These are the most common symptoms that one gets from an allergic reaction.
In the rows, you will include the things that make you get an allergy i.e. the allergy triggers. You can have main headings with sub-heading so that it makes it easier for the person who is reading it, or you can list the things randomly. An example can be, the main heading will be medicines, under this you can have subheading that will be a lesser font. You can list down antibiotics, anesthetics, etc.
It is vital to have one of these tables as it can save your life and make your loved ones less tense when they see you getting an allergic reaction.
An allergy trigger and symptoms table can be maintained in two main ways:
This method is that simple! Just keep a register and pen and write down all the symptoms and the factors that trigger your allergy column-wise in a table.
Allergy trigger and symptoms table template:
In the modern world, a person can easily download a proper template for keeping a record of allergies and its symptoms along with the triggering factors.
Keeping a record of your allergies online is much easy and a quick process. The table can be maintained properly on regular basis.
Structure of an allergy trigger and symptoms table:
This is a simple table in which we have:
Columns: list of all the possible symptoms a person might suffer.
Rows: list of all factors which trigger allergies of an individual.
Symptoms might include a runny nose, itching, hives, sore throat, and others.
Factors that trigger certain kind of allergies might include items of food or environmental factors like dust, pollen and many more.
Uses of maintaining and allergy triggers and symptoms table:
The main uses of keeping and maintaining a proper table for allergy triggers and symptoms are very useful:
It gives an idea to an individual about the factors that increase the probability of catching an allergy. So that he avoids these.
The person knows about the possible symptoms a person might show when he is allergic to certain things.
A person lives once, and if we are allergic to anything, we shall be aware and a proper allergy table needs to be maintained.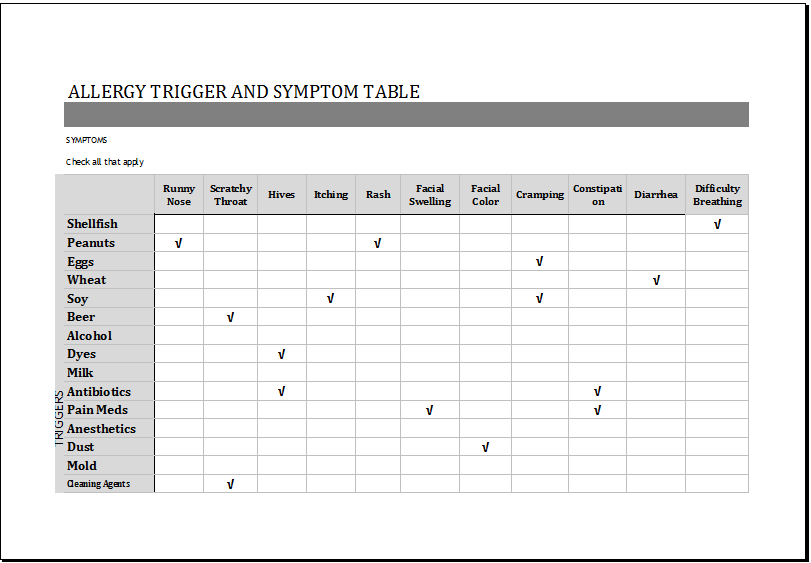 Download your file below.
Allergy Trigger & Symptom Table Template
File Size: 29 KB
Download
---