An address list is used for keeping the names, address and other relevant information of a person's contacts. An address list of your contacts can be maintained in two ways:
You can write the names and addresses of all your friends and family members, in a register along with their contact numbers. The list shall be updated with time if needed.
Online free/ purchased template:
One can also save his contacts by keeping a record online with the help of address book templates. This template can be easily downloaded from the website.
An address book can also be purchased from a market on very cheap rates and can be kept near to the phone or computer in your house.
Either you choose to keep a record in a register or you do it online, in both ways you have to update and make changes on regular basis. So that at the time of emergency, you can easily contact them.
In an address list/address book template, usually two things are updated with time:
Temporary or permanent address.
Phone number.
Keeping and maintaining an address book template is easy and time efficient.
Structure of an address book template:
The common structure of an address book template includes:
Name of the person.
Phone contact number that includes phone numbers of office, cell, and home.
Email address ( optional)
Address that includes the temporary and permanent address.
City and state.
Uses of an address list/ address book template:
Keeping an updated address book template helps an individual in the following ways:
An address list helps in organizing the contacts alphabetically.
The template provides the temporary and permanent addresses of the contact, and also shows if any changes made.
It makes easy to contact the required person in case of an emergency.
In an address list, you can maintain the numbers of grocery stores, hospitals, dry cleaners, pharmacy, Home delivery for food and many more. People mainly save the phone numbers of the places those are near to them.
The address book template is much easier and user-friendly than going through a phone directory when you use it for locating the local contacts.
Maintaining a proper address list makes your life organized and makes you more efficient and responsible.
Personal or professional address lists
An address list is a collection of a receiver and other Directory Elements. Each address list can contain one username, contacts, public folders, and other assortments. You can use address lists to organize recipients by using this address list. It is easier to find recipients and resources promptly. Address lists should be updated timely. Hence with the arrival of new recipients, it would be instantly added to your list automatically.
During setup, various default address lists are created. When client application has to be found out with recipient information you can take it from accessible address lists. By default, several address lists, such as the global address list (GAL) is generated. Exchange holds the default address lists, which are then automatically inhabited with new users, contacts and, groups.
This address list covers all mail-enabled contacts. Mail-enabled contacts are E-mail holding recipients. If you want mail-enabled data for all users in your business it should be included in the GAL.
This address book comprises all public folders. Access permissions enable privacy and can define who can view and use the folders. Public folders are stockpiled on computers Exchange.
The list encompasses resources labeled as a room in your corporate. Rooms are resources which can be planned by distributing a meeting appeal from a client application.
On-line address lists are present as free templates on websites. Download this template and customize your own address list to store it for your convenience. It is a valid directory form most suitable for organizational operations.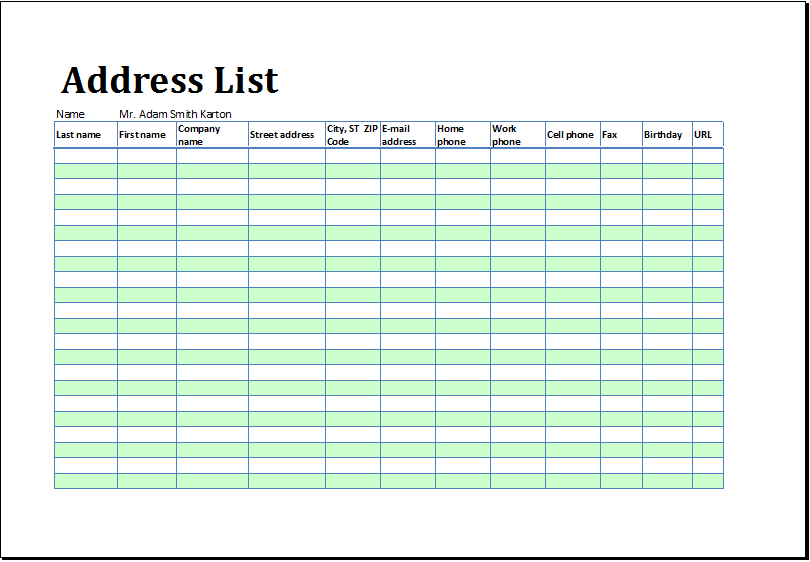 Download your file below.
Address List/Book Template
File Size: 38 KB
Download
---