Bar price list
The price list is essential in every business where selling of items is involved. If you are running a bar, you may want to provide the ease to the visitors who want to get the information about each beverage being sold in the bar.
What is bar price list?
The bar price list is a document that includes the price of all the food items and drinks. The food and drinks in the list can also be categorized in order to make it easier for the customer to find the specific item of his choice.
Benefits of bar price list:
The price list provides the standardized pricing of each item. Everyone who visits the bar will be able to see the same price for each item.
The price list used in the bar is a great tool that provides the best visual aid. When a customer comes and questions about the price, the sales representative see the price of the demanded item in the list and can explain him about the price and the deals that come with it.
The discounts provided by the bar management become more prominent and then the customers will be able to appreciate it. When the customer sees the original price in the price list and you offer him a discount, the discount becomes more noticeable.
The bar price list enhances the image of the bar. The professionally designed bar price list makes the customer realize that the bar is being run by a professional and an organized management.
The bar price list can be prepared easily. All you have to do is add the names of all the items that are available in your bar and the price of each item should be printed in front of it. The items in the bar can be categorized.
If you want to save your time, the template for bar price list can be downloaded from this website. This template is highly customizable that allows the user to add or remove the details according to his business needs.
Preview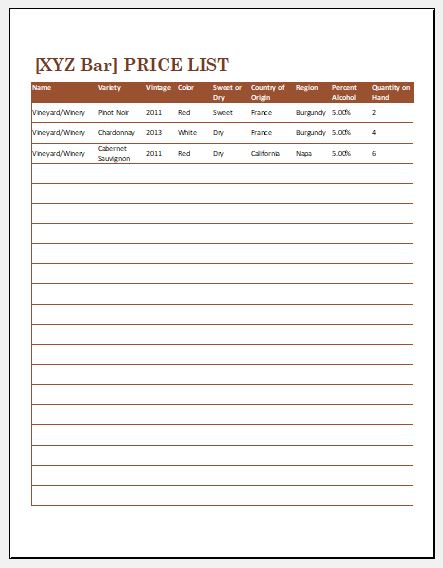 Bar Price List Template
Format: Microsoft Excel 2007-2013
File Size: 18 KB
---