The receipt of a business acts as a formal document which is used for the written confirmation of the payment of the money. The receipt is used by the company in order to pay off the debts. It also helps the company owner know the financial health of the company by looking at the company asset receipt.
What is company asset receipt?
The company asset receipt is a document which describes the details of all the assets owned by the company. It helps the company owner make the decisions and future planning that can help the company grow.
When to use the asset receipt?
This receipt is used when:
The company wants to sell its fixed assets and wants to know the exact information about the assets it owns.
The company is selling its shares in the market
The business wants to issue the debt instrument
How to make the asset receipt?
As a business owner, you will always be in need to get an asset receipt. This receipt can be prepared in no time if the Exact format and the content of the receipt are known. Here are the steps to prepare the asset receipt:
The receipt should be started with the title of the document as well as the name of the company and its logo
The name of the creator of the receipt should also be mentioned in it
Enlist all the assets in the receipt.
Include the series number of each asset, the date of purchasing the asset, the complete description of the assets
The details of the manufacturers of the company's assets should also be provided in this receipt
The place where the assets are located as well as the details of the custodian should also be written in this document
Include the details of the receiver of the receipt such as name, contact number, email address, department ID etc.
End the receipt with the details of the procurement specialist including his name, contact details, department ID and a lot more.
Preview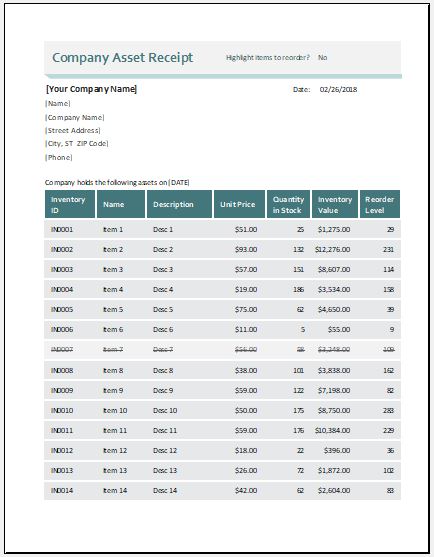 Company Asset Receipt Template
Format: Microsoft Excel 2007-2013
File Size: 22 KB
---