In business, the cash receipt has a very important role. Every transaction which is taking place between the client and the customer is noted down in the written form in order to keep a record of all the transaction. This written record is called a cash receipt. This receipt helps both customers and clients to know about the amount of money which has been paid or received by any one of them. It is the best way to keep a record of the money as the person can see the rotation of the cash in the market.
If cash receipts are made well, they can help a lot a company, business, and even a person. The person can ensure accuracy in his work by using a cash receipt. There can be different kinds of cash receipts out of which one should choose the receipt which is relevant to his work. If you are not well aware of writing and preparing a cash receipt then you can use a cash receipt template. You can find a number of readymade templates on the internet. You can download your cash receipt in MS Excel or in Word.
While you are taking readymade templates for your business, never forget to do some editing in it. You will be required to change the name of your company and some other additions can also be done according to your needs. Some cash receipts templates change the date automatically while some require dates to be changed manually.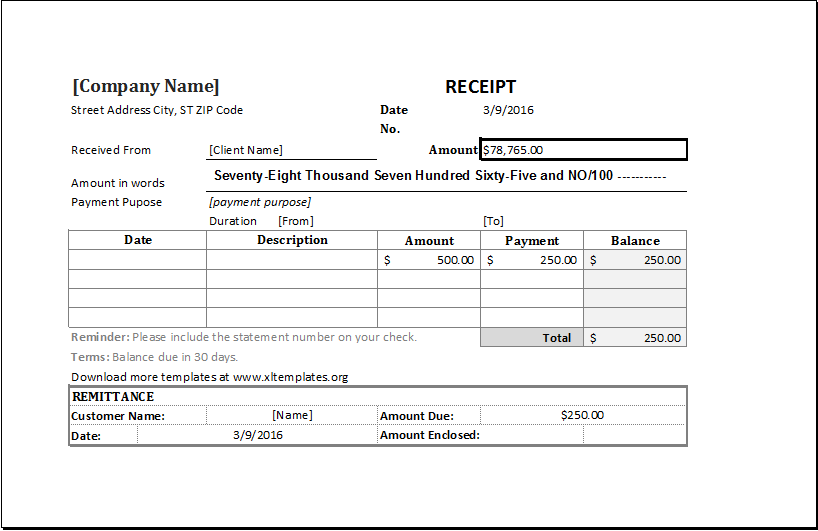 Cash Receipt Template
Print two receipts on one paper
The amount entered in digits will be automatically converted to a number of words.
Enter amount and payment; the balance will be calculated by itself.
Download the file in the local folder. Make suitable changes and it is ready to print.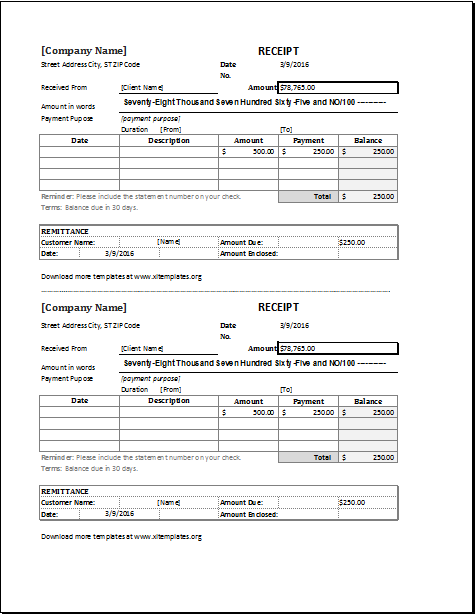 File Size: 35 KB
Download
---