When an occasion is coming up, it means get-to-gathers and dinners. Thanksgiving is one such event on which the families and friends want to celebrate and have fun. Proper lunches and dinners are organized, and so the grocery items need to be purchased and kept in the house for good hosting. To ensure that no important item is missed out, a grocery list is maintained to track all the needed items in the kitchen.
As Thanksgiving is a yearly ritual, a template of the grocery items is designed and is updated every year with the latest details. This is referred to as a thanksgiving grocery list template.
What is a thanksgiving grocery list template?
A thanksgiving grocery list template is a template for recording the list of grocery items that are needed for the occasion of thanksgiving. This template contains all the food and other items with their costs. The template can be customized every year, as per the latest needs and prices. In addition, before Thanksgiving, one can keep updating the grocery list from time to time so that till the celebration day comes all the required items are at home.
What are the benefits of a thanksgiving grocery list template?
There are many benefits of this grocery list and its template, such as:
As the list helps in listing and tracking all the grocery items, all the purchases can be made well in time, and subsequently, the management of the thanksgiving dinner and gatherings can be made better.
Purchase of all the needed items, without missing out any important one.
Making a list is always effective, as all the needed items can be recorded, and the list can be updated from time to time to avoid missing any item out.
Helps in the avoidance of last-minute rush and panic.
If every grocery item is present at home, the stress of hosting can be minimized, and rushing to the market at the twelfth hour can be evaded.
If the template includes the costing as well, it will help the family to know the amount of money, that needs to be separated for the thanksgiving grocery shopping.
When a template is available, it is easy to record the needed items, with the latest prices, taxes, and charges, in it, to get a finalized version of the grocery list.
What are the main components of a thanksgiving grocery list template?
For every family or a group of friends celebrating thanksgiving, the details in this type of template may vary as per their requirements and needs. However, generally, the following information is recorded in these lists:
Type of savory food items.

Turkey and/or other type of meat.

Ready-made and/or canned food items.

Desserts.

Any special treats for children.

Drinks.
Sauces.
Disposable cups, plates, spoons and forks.
Any other miscellaneous grocery items, such as napkins.
Price per item.
Total price.
Sales tax, delivery charges, transport charges, etc.
Total cost.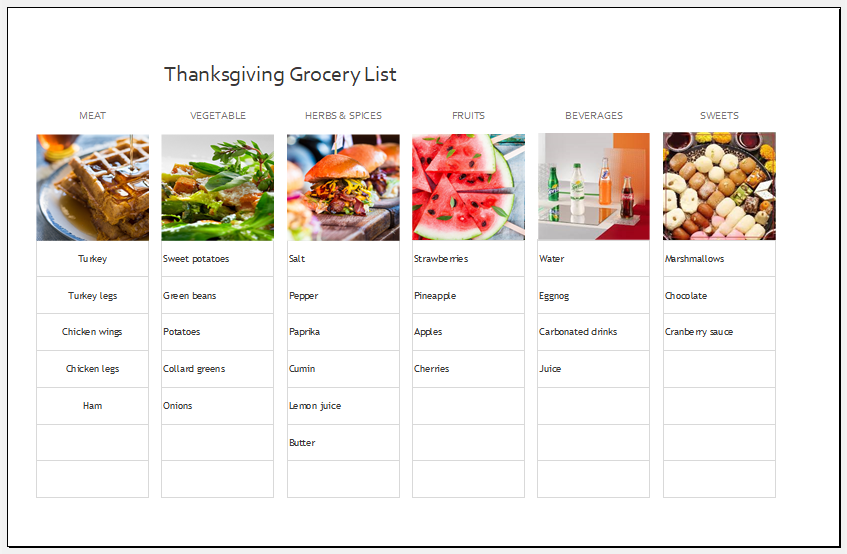 ---