Timesheets are used in different organizations in order to keep track of time in and time out of everyone working in those organizations. These are very useful tools for all those people who want to keep track of the time without having to worry about anything.
What is a weekly timesheet?
A weekly timesheet is a tool that is used to keep track of the number of hours every person spends working in the organization per week. These timesheets are extremely useful for employees who are paid on a weekly basis.
Breaks are the main part of every person's job. The break time is also mentioned in the weekly timesheet so that the allocation of the available time can be done in a proper way.
Why is weekly time sheet used?
A weekly timesheet is used when the employer is needed to allocate the number of hours to different days in a week. When an employer decides to allocate a specific number of hours of work to an employee, he will have to allocate that number of hours to each day in a week. The allocation of the hours is done in such a way that the break is given to the employee.  
Every company has many people working for it. As a matter of fact, only the required number of people is hired, and the available number of hours is assigned to them. An employer knows what number of hours an employee work should and how much he should be paid. At the end of the week, the employer sees that timesheet to get information about the number of days an employee has worked, the number of hours spent at work, and much more.
What are the benefits of the weekly timesheet?
No matter you use a weekly timesheet or a monthly timesheet; you can render many benefits out of using this tool. Here are some basic benefits of using the weekly timesheet with breaks.
Employers can use the timesheet when they want to keep track of allocated hours every week without stressing out.
This timesheet records the details of the number of hours worked by the employee due to which, it becomes convenient for the employer to calculate the salary to be paid to the employee.
An employer can determine the time allocated to the employee for a break. He can also see if the employee has taken more than allocated time for break or not.
If the employee does not work one day in a week, the timesheet records the details and clearly tells the employer that the target of working a specific number of hours has not been achieved this week.
Weekly timesheet template
Everyone wants to keep track of time without any hassle. Due to this, a template for this timesheet is also available. People can download this or use it online and simplify their life.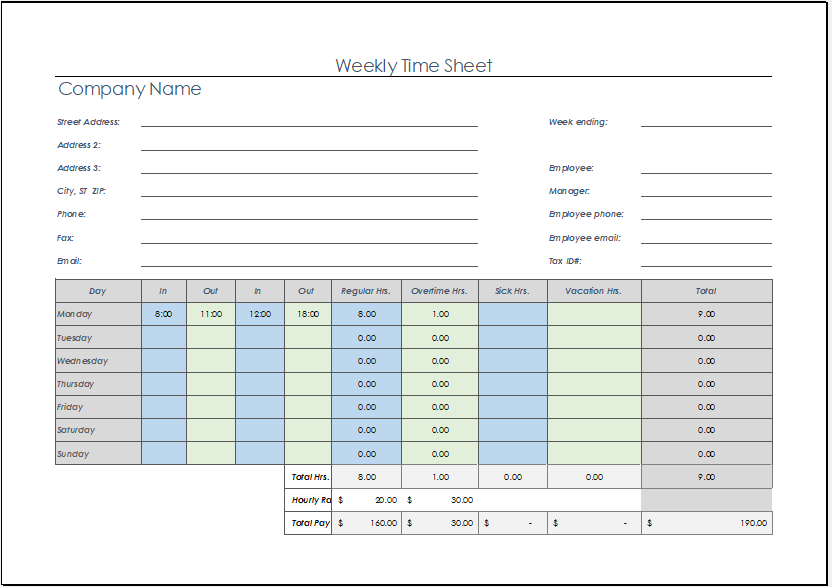 File: Excel (.xlsx) 2007+ later
Size 18 Kb
---