It is the priority of every planned and organized person to do proper planning in order to ensure that everything is done in time and without any problem. Therefore, many people believe in doing their work with proper scheduling. The scheduling enables the person to manage his time in such a way that he can do all his work in time. The scheduling no doubt accelerates the energy and increase the productivity of work.
What is the employee work schedule?
Scheduling at work is very common these days. The purpose of making the work schedule is to allocate a specific amount of time to the work. Employee Work schedules are often made by employers when they want to let their employees know about the work, they need to do in the allocated time.
What are the benefits of using a work schedule?
A work schedule is made when you want to stay productive. Therefore, the schedules are used oftentimes just for increasing the productivity. Below are some common benefits of work schedule
It helps to achieve goals: When you have a lot on your plate and you have a very limited amount of time, you should make a work schedule to help you stay focused. When you have set some goals that you want to achieve and you are really worried about how you will achieve them as achieving them requires you to do a lot of things in a given amount of time, you should use a work schedule to achieve those goals. A work schedule includes the list of all those tasks that are needed to be done in order to reach a specific position.
It helps you in keeping a balance: There are many people who cannot maintain a balance between their work life and personal life. These are the people who don't know how to handle work-related pressure. When they have some goals to achieve, they make themselves completely swamped forgetting about their family, friends, and all other parts of their personal life. Such people should use the work schedule as it helps them know when to do the work and when to quell.
It increases efficiency: Those people who use the work schedule are usually more active and accelerated towards achieving their goals. Therefore, they are always ahead of those who don't use the schedule. Scheduling keeps them informed about the status of the work. So, they know how much work they have done and how much is still to be done. People using the work schedule are more likely to meet deadlines and work efficiently.
Work schedule template
The work schedule template is an MS Excel spreadsheet in which a sample work schedule is given. This schedule is quite general in nature which means, people from any profession can use it. However, the template allows the users to customize to make it easy for them to use it.
People who don't want to make a schedule from scratch can make their life easy by making use of a schedule template.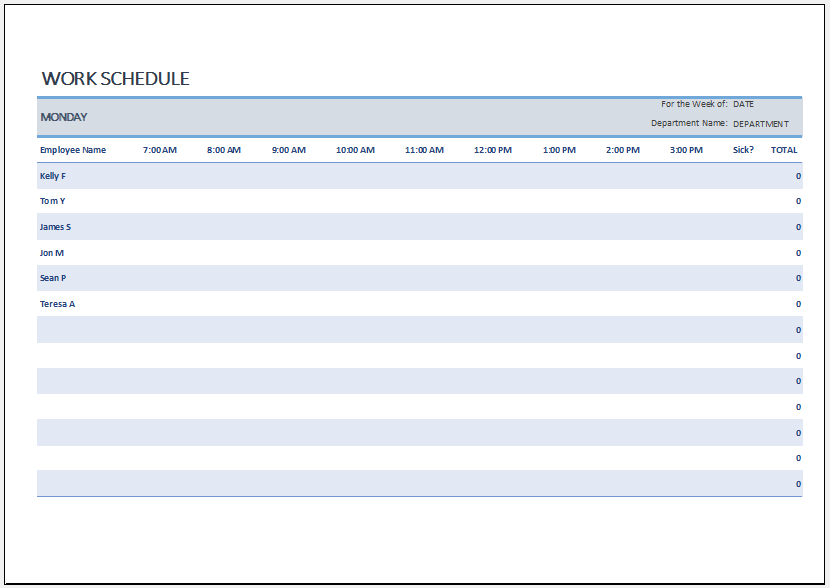 File: Excel (.xlsx) 2007 & later
Size 39 Kb
---