Nowadays several events are being planned, based on business operations, educational seminars, or about health conference events. The organizers have to set a comprehensive timetable to deliver each task. Every sort of event has its own respective tasks that are scheduled on assigned timings. This course of action leads to a consistent chain of event planning and budgeting.
Five-day schedules
Five-day event schedules are used for the creation of a series of event agenda.
These templates are available in the format of Microsoft Office programs, especially in Excel.
You can get it simply by downloading from the download link available on this website or other free template websites.
You can customize it to your event schedules, the options on the templates have multiple fonts and other custom buttons to draft your preferred schedule layout.
The five-day event schedule template is filled- in with the specific information and a printout is taken out.
Benefits of five-day event schedule:
It is a better informative material
It is a quick communicator
It serves as a navigation tool
It is easy to read and comprehend.
A 5-day event planning schedule is a design of activity comprising a suitable date for the particular event, its time of start and end, the defined tasks, and their purposes. The five-day schedule could be a meeting, a conference, get-together, entertainment shows, or a trip. The event schedule is a vital gear aiding in the organization of a series of event planning.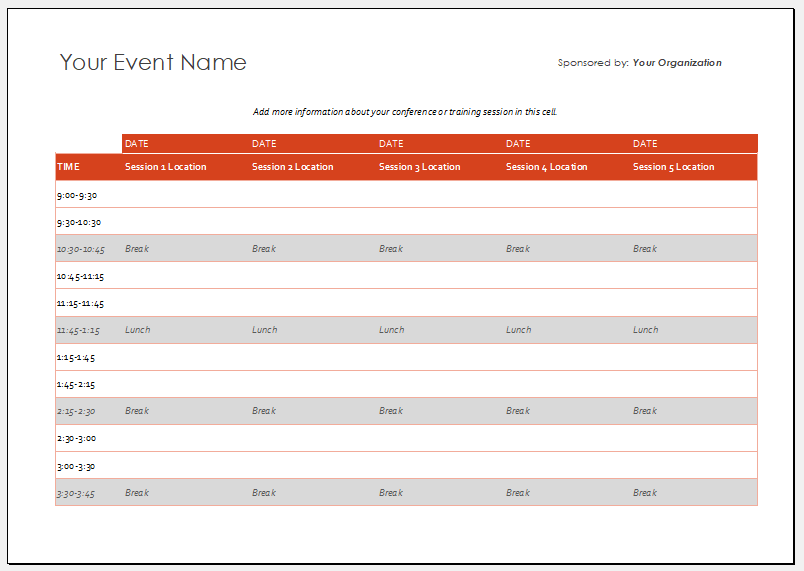 Download your file below.
Event Schedule Template
File Size: 31 KB
Download
Multiple day event schedules:
Sometimes, we come across a situation in which we have to organize an event that lasts for more than one day. Organizing such events is hard and stressful. No matter you are an expert and experienced event organizer or someone at entry-level, you can always organize the event like a pro if you schedule everything ahead of time.
What is a multiple-day event schedule?
Multiple day schedule is a document that is used to keep track of dates and locations of the event. The purpose of this schedule is to manage everything effectively.
As a matter of fact, every event scheduler faces the problem of scheduling the event since there are lots of things to be kept track of. The use of the event schedule makes it easier for the event organizer to organize the event without any error.
Importance of multiple-day event schedule template:
Different types of events are organized in different organizations these days. These events may be educational events, promotional events seminars, or conferences. There is a need to make a comprehensive schedule in which all the tasks related to the event organizers should be mentioned.
Event scheduling requires the user to assign different activities to different days and time intervals. This seems to be very easy but as the list of tasks to be accomplished an increase in number, it becomes complex for the event organizer to schedule them. The multiple event schedule template is for such people who are not very skilled at organizing the event comprising of different days.
What are the benefits of the template?
Many people prefer using this template because it helps them organize and schedule everything quickly. In this way, the template is capable of performing the task of event management in no time.
The template also lets the user save the events, locations, and times of different activities that the user can also use later for organizing events in the future.
The template contains a number of spreadsheets that help in improving the integration of various details.
Preview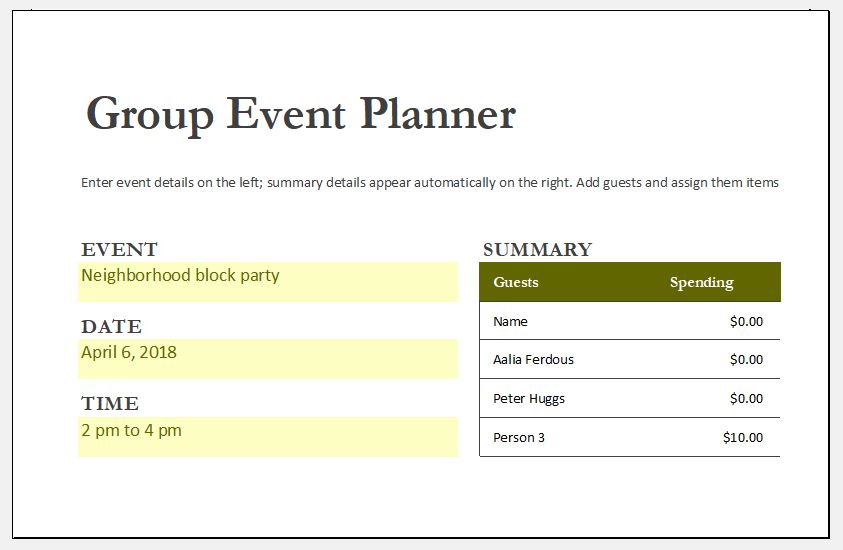 Group Event Planner Template
File Size: 31 KB
Download
---