Weddings are the things that all of us plan for years. Since it is a one-day ceremony, so we want to make it as memorable as possible. Spending ravishingly on your wedding is not something that is new to the world. Whether it is the dresses, the décor, the lightings, the food or the sitting arrangements etc. we tend to settle for the best. Planning a wedding could take a lot of time and money. The fact that you have to spend a lot is well established but you can counter balance it by providing a budget for the money. Having a baseline for the expenditures will help you to invest positively in your wedding rather than just throwing the money away.
What is a wedding budget planner template?
It is a template that helps you to be organized in spending money on your wedding. You can keep track of all the expenses. Having a template saves a lot of time and refrains a lot of troubles from hitting you at those special moments.
Features of the wedding budget planner template:
Wedding are long so a long list of expenditures is also waiting for you. The key features of the wedding budget planner template are as follows:
The wedding budget planner template breaks down the expenses into small categories. This allows you to know the things on which you are spending your money.
The first category is of apparels or the wedding clothing of the groom and the bride. This includes the accessories, jewelry, and dresses for the couple, bridesmaids, groomsmen and children. The expenses help to estimate the money spent on dresses and compare it to the actual cost.
Next category contains the decor especially flowers. Flowers light up the wedding so you have to spend a lot of money on the floral factor.
No wedding is ever completed without a wedding photographer and the photo shoots. Photo shoots of the engagement, wedding day and reception are included in this category. You have to pay for the transportation fee as well if you have to do a photo shoot at a specific location or a studio.
Wedding location, food, drinks ad cakes come in the next category.
Here is a sample template by our team for your convenience.
Preview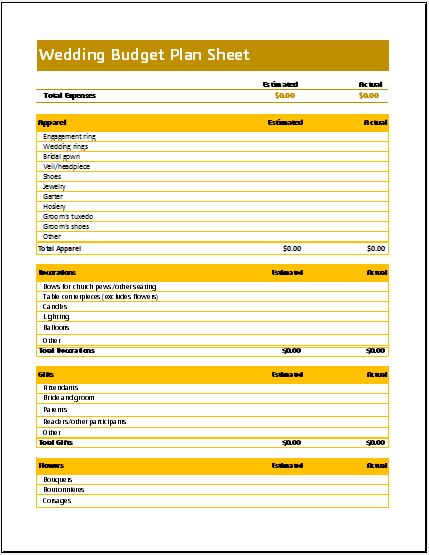 Wedding Budget Plan Sheet
File Format: MS Excel 2003 & later
File Size: 67 KB | Download
---
---