Gardening is a hobby and those who have this hobby know that the importance of keeping the garden in order. Making sure that the garden is well furnished, the trees and branches are well trimmed, fertilizers are given on regular basis, enough watering is done, the soil is inspected and checked every now and then, and the garden is pests free requires a proper budget. You have to make sure that the land you have chosen is suitable for building a garden. A well-maintained garden is matchless in its beauty. It gives comfort and soothing to the eyes and the soul. To make sure that your garden gets all the benefits and services, you have to allocate a proper budget for it.
What is a Garden Budget Template?
A spreadsheet that allows you to calculate and analyze the money that you will spend while you plan to make a garden is called as Garden budget template. It contains all the fields such as the cost of the land, the cost of the trees, plants, and fertilizers. The cost of the Gardener and the laborers is also included in this spreadsheet.
How to design a Garden budget template?
A sample template is given below. It is designed by our team to make sure that you undergo no trouble in making a budget for your garden.
The template has three categories including the actual cost, the estimated cost and the difference between the two.
The garden setup starts with the purchase of the lands. You have to deal with the proprietors and contractors and they will charge money for their services.
Next, get an architect who will help to turn the landscape into a garden. You have to plant the trees and flowers and this requires an expert gardener who will tell you which plants to grow and which to avoid.
The cost of the fertilizers, sprays and gardening equipment are also included in the budget list. You will need a lot of laborers at the start, so you have to pay them as well. This is also included in the list.
Preview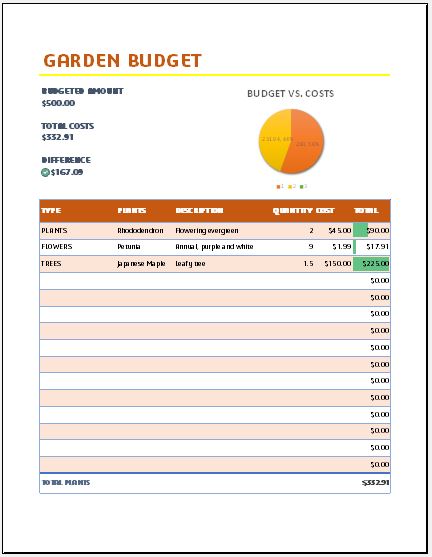 Garden Budget Planner
File Format: MS Excel 2003 & Later
---
---