You have to be logical while organizing a marketing event. The event has to be completely related to the thing that you are marketing. The event should cover all the aspects that are required to be fulfilled to market a product. Events are always a hectic time. The different small components that you have to handle make a very busy vibe around the person who is handling all the things. Whether it is the budget of the event or the expenses, you have to manage everything. Marketing a product requires a speaker who will tell the people about the benefits of the product. A good marketing event not only attracts the visitors, it turns them into customers. A marketing event can be well-managed with the help of a marketing event budget planner.
What is a marketing event budget planner?
A marketing event budget planner contains all the details about the marketing activities including the advertising, online marketing, brand endorsement, public relation, and ads. The marketing events are held on a large scale and you have to make sure that the event is within your expenses and budget.
Things to look out while making a marketing event budget template:
You have to break down the template into categories in order to allocate proper funds to every category. This will allow you to track down the expense easily as well. Here is a list of the things that are given by our experts in our template for your convenience. You can download that template from the link below as well. Let's get a deeper insight:
The cost of the location of the event
The cost of the catering service
The cost of the staff
The cost of the equipment used to do the promotions
The cost of the speaker
Event promotion charges
Charges of the security
Charges of the event's insurance
There are separate fields given in the template that allow you to input the estimated cost and the actual cost for each category. You can compare and see the difference at the end of the marketing event.
Preview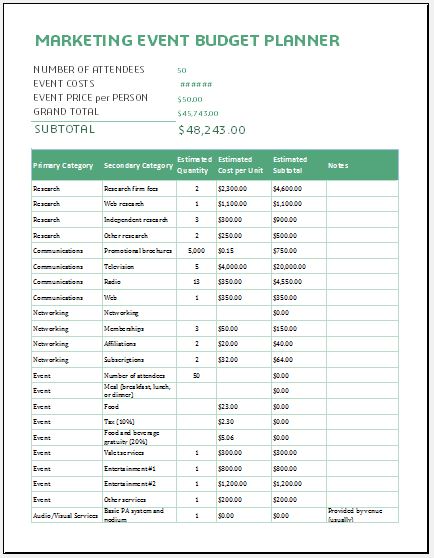 Marketing Event Budget Planner
File Format: MS Excel 2003 & Later
---
---