A ledger has a very important role to play in an accounting system of any company. The most important financial reports are generated with the help of T-ledger account sheet. There are many accounting sheets and reports which are required to make any financial report. Such reports include the profit and loss statements, balance sheet and many other documents which are very difficult to create without any initial information.
The initial information is provided in the account sheet. All the activities related to the credits and debits are posted in the document which is known as T-ledger account sheet. In order to keep track of running balance for all the financial accounts of the company, the T-ledger account sheet is needed. The general ledger accounts are usually known as T-ledger account sheet.
The T-ledger account sheets are very helpful in getting the information about the financial health of the company. The record of the company is saved in the T-ledger permanently. Whenever you will be required to create balance sheet or any other accounting sheet for your company, you can easily get all the initial information about the data to be inserted in the sheet from the T-ledger account sheet. This account sheet is a very important for the company and it is advisable for a company to keep a T-ledger sheet for keeping the financial records.
There are many T-ledger account sheets available on the internet. You can download anyone of them that suits your needs and preferences. Mostly the T-ledger account sheet is prepared in MS Excel format.
Preview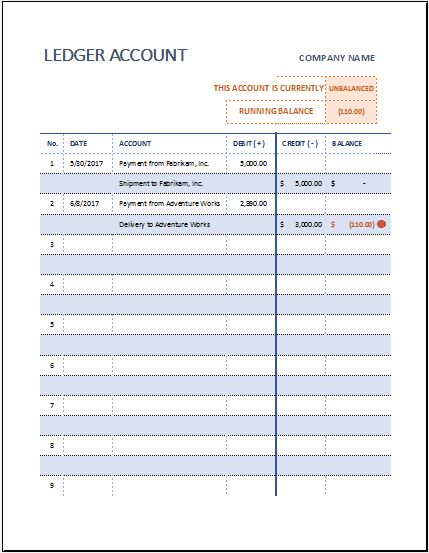 T Ledger Account Sheet
File Format: MS Excel 2003+
File Size: 69 KB | Download
---
---