Holidays are a fun and the most awaited time of the year. We spend the whole year making plans for the holidays, where will we go and how will you spend it. We want to bring back gifts for your family members to make them happy. But this is always not the case. We tend to spend too much during the trip and at the time we come back we don't have enough money to shop well for our loved ones. To make sure that the trip is well-managed and well planned in terms of the money and expenditures, it is essential that you set foot out of your house by having a limit and a budget for the money you are going to spend. You can start it by making a holiday shopping budget template.
What is a Holiday Shopping Budget template?
It is a spreadsheet that contains all the data about your trip including the expense of the transport, hotel stay, air travel and the shopping. This sheet allows you to limit your expenses and allocate proper budget to every subject so that you can spend well and save money as well.
Tips to use the Holiday Shopping Budget template:
You can use the template that is given below by our professionals. It allows you to enter the details of the people to whom you are going to give the gifts. Access the amount you want to spend on each gift. In the next column, you can enter the money you actually spent while you buy the gift. Compare the two and get the difference. The difference will tell whether you have gained a profit or not.
To use the sheet, you have to make sure that you have a limited budget. Think and discuss this with your spouse or partner. Plan ahead of everyone. You can look out for deals and shopping coupons that are widely available during the shopping season. You should start the shopping early to save more money.
To have an effective holiday season, this template will help you a lot in getting the best gifts while saving the money.
Preview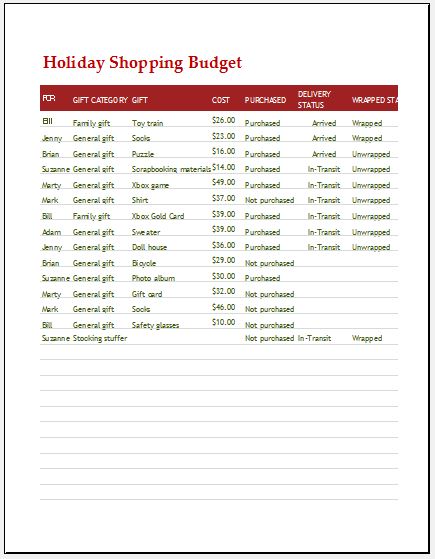 Holiday Shopping Budget Template
File Size: 56 KB | MS Excel 2003 & Later
---
---