A manufacturer's dream is to make sure that all the expenses and incomes are under the control while they are producing a product. It takes a lot of time and patience to take into account every small detail that is going on during this process of production. The details include the cost of manufacturing, storage, shipping etc. You have to consider the payments of the laborers as well. A manufacturing budget template allows you to create a budget sheet that contains all these fields including the fields that are for the money that you put in case of emergencies use. Although the insurance will cover it all, yet you have to manage the emergency situations during the manufacturing process. A Flexible manufacturer budget template allows you to design a template that is compatible with the needs of your company at all levels.
What is a Flexible manufacturer budget sheet?
A spreadsheet that is mostly used by the manufacturing companies and organizations to organize their manufacturing process and all the processes associated with it within an assigned budget and a specific time.
Tips for using Flexible budget template:
It helps in the effective and easy allocation of funds to every subject during the manufacturing process.
You can plan strategies to develop your manufacturing plan.
This template allows you to create a plan in which you don't have to borrow money from anyone neither you have to pay anything to external sources at all.
The major problem associated with this process is the overspending of the money. You don't have any idea where have you spent all the money until you get this template. It allows you to track all your expense and prevents overspending of money. Hence at times, you are able to save money as well.
Features of  the template:
A sample template that is designed by experts is given below.
You can modify it on your own. It contains the fields for pricing your product according to the estimated budget. After manufacturing, you can adjust the price as well. The fields for rents, funds, sales, and investments are given in the template.
Preview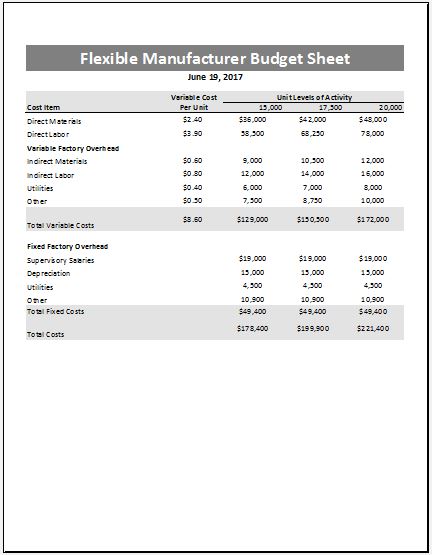 Manufacturer Budget Sheet
File Size: 49 KB | MS Excel: 2003 & Later
---