Every servant in a building has different types of responsibilities and rules to fulfill. The entire system of residential and commercial property keeps running smoothly if all the people know their responsibilities and never turn their back on them. This is the reason, a responsibility sheet is created.
What is a maid's responsibility sheet?
It is a document primarily prepared for maids to provide them with the information and list of all the tasks they are expected to perform in a single day.
Why is it important to use a housekeeping staff responsibility sheet?
It is often seen that people are not happy with their maids and cleaning staff because they don't work according to the likes and preferences of the house owner. Sometimes, there is a disagreement between the owner of the house and the maid. Therefore, it is really important to have both of them on the same page. Using the roles sheet enables everyone to know what a maid is supposed to do during her duty hours.
The owner of the house also feels stress-free when he doesn't have to explain different tasks to be done to the maid separately since everything is already mentioned in the responsibilities sheet.
Some people also describe a cleaning schedule in the duties sheet. This helps them to make the maid understand everything without having to explain anything in detail. In addition, this document also makes the process of transition very easy. Whenever you have to hire a new maid, you can simply hand over a responsibility sheet to them and everything will be explained without putting any serious effort.
When you want to create a duties sheet on your own, you should make sure that you don't overburden any person on the staff. For this, you should know what can be included in this sheet.
What are the main elements of the housekeeping staff duties sheet?
It is important to remember that there is not any one-fits-all responsibility sheet because the rules and duties of a person keep changing depending on the housekeeping work he or she has to do. There are some main details that you might find in any sheet of duties:
Cleaning of the house:
One of the primary roles a maid is expected to fulfill is the cleaning of the house. Cleaning is a broad term and it needs to be explained further. The responsibility sheet explains it in more detail. This section should tell the maid what kind of cleaning work she is required to do and how often. This way, it will also become clear to the maid what she can be held accountable for.
Laundry work:
If your maid is not just for cleaning and you want her to do more than cleaning, you should mention the amount of work she will have to do such as laundry or how many people she will be doing. This is important to mention because the salary of the main depends on the burden of work you put on her.
Guests servicing:
If your place is frequently visited by guests and you want the housekeeping staff member to take care of them and serve them well, you should mention those duties also.
If you have multiple people working in the housekeeping staff, you should know that the responsibilities should never mix up because this often leads to conflicts and disagreements. To prevent any kind of conflict, you must make different sheets and handover to different staff members so that all of them work according to their job roles.
Responsibilities sheet template:
You may not be interested in creating a responsibility sheet on your own. You can easily find a readymade responsibilities sheet and fill it up with your customized duties as well.
If you have many people working in your house, it will not be easy for you to make this sheet for all of them without creating confusion. This is where the readymade responsibility sheet can come into action. You can edit it to make it more suitable for you and then take printouts to share the hard copy of the sheet with the entire housekeeping staff of your house. However, make sure you have proofread them well.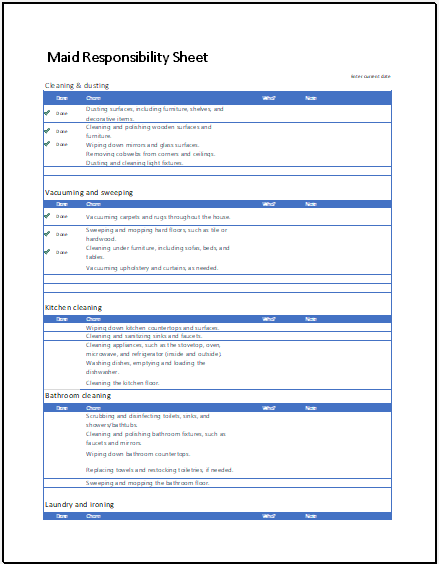 ---