It is the desire of everyone to plan the financial needs of the survivors to ensure a safe future for them. You can create a safe and sound financial plan for your family if you opt for a better life insurance option. This requires you to buy the life insurance policy to ascertain that the financial needs of your family will be met even after your death.
When it comes to buying a life insurance policy, an important thing to consider is the insurance coverage you are going to have. Perhaps, this is one of the most important parts of buying the life insurance policy. The thought of leaving your family behind completely helpless is a scary thing. The purpose of buying life insurance is to ensure that your dependents get full coverage of everything they will need in the future.
The life insurance needs calculator is a useful tool that will help you ensure that you are doing the right things for your family. It is important to estimate how much life insurance you are required to have. For this purpose, a life insurance needs calculator is used.
What is a Life Insurance Needs Calculator?
This calculator is an efficient online tool that helps the policy buyer in determining the amount of life insurance he needs in order to get enough coverage.
What is included in the calculator?
This calculator generally asks about those things that are helpful for it in determining the needs of the user. The user is only needed is to do is provide the details required by the calculator. The calculator calculates everything on its own with the help of its own pre-defined formulas.
There are certain fields in the calculator that a user should fill in to complete the form. Once the user provides all the details, the calculator performs the calculations. The calculator asks:
Details about burial expenses
Number of years you need to pay from your income
Annual income that the survivor will need
Number of survivors
The amount you have in savings
The amount you have invested
Details about the expenses you want to be refunded
Many people find it very hard to use the life insurance needs calculator in an attempt to determine their needs. Some people also get the assistance of the agents which costs them so much. It is not always advisable to hire an agent for this purpose. You can easily estimate your life insurance needs on your own.
The needs calculator is an efficient tool for all those people who want to get information about the total coverage of the life insurance policy they are going to buy. It should be kept in mind that this calculator is not for those people who have already bought the life insurance policy as it is of no use to determine your needs at this point. It should also be ascertained that you are providing accurate details to the calculator to get the accurate answers.
Preview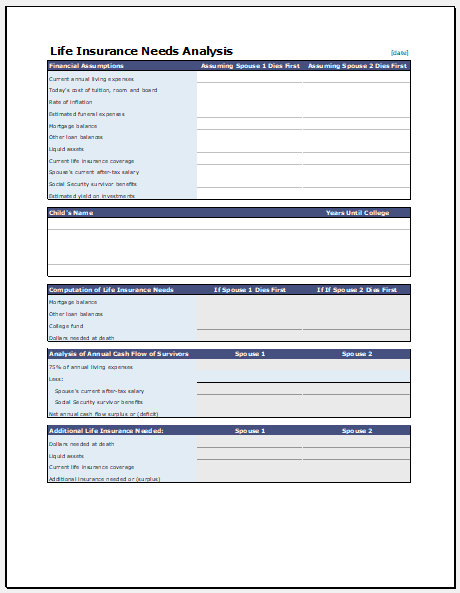 Format: MS Excel [.xlsx]
File Size: 56 KB
---