Over time, using a kitchen may deteriorate its condition, and it would require renovation and remodeling. In addition, when someone wants to bring changes into the kitchen to make it trendy and latest, remodeling would be conducted. In both cases, various expenses would be incurred, which need to be determined to make an effective budget and plan. A kitchen remodel budget calculator can be used to get an estimate of all the costs associated with a kitchen remodeling.
What is a kitchen remodel budget calculator?
A kitchen remodels budget calculator is a worksheet that contains the data of all the costs, which are relevant to the remodeling of a kitchen. This calculator is used to estimate the costs of remodeling, by listing all the materials, labor, and other resources required to complete the job. The calculator not only calculates the costs but also helps in budgeting the expenses properly while considering the available funds.
Furthermore, this calculator has in-built formulas to automatically calculate and analyze all the different remodeling options to pick the best suitable one within the budget limits.
What are the advantages of a kitchen remodel cost calculator?
This calculator can prove beneficial in many ways, such as:
Aids in the assessment of costs.
As this calculator helps in the calculation and analysis of costs linked to remodeling, the overall budgeting becomes easier. The user can see if he can afford the total costs and whether he has sufficient funds to go ahead with the plan. In addition, by using this calculator, it can be ensured that no important and major cost gets missed out.
Once designed and developed, this calculator is very easy to use. Only the data needs to be inserted, and the calculator would do the rest of the work itself. No expert staff, which would cost money, is required for this task, and hence, the saved money can be put to better use.
Highlights discrepancies, if any.
If there is a gap between the actual and estimated costs, the calculator can reveal that, so that the required timely actions can be taken. For instance, if the actual cost of a stove is higher than the estimated cost while considering other factors, a slightly cheaper stove can be chosen instead.
As this worksheet has in-built formulas, the calculations can be easily done. In addition, any change in the data figures will bring automatic changes in the calculations as well.
What are the main elements of a kitchen remodel budget calculator?
The components of this calculator can be adjusted, as per the need. However, the general components include:
Date.
Title of the calculator.
Serial number.
Category or description of the task.
Items to be changed or modified.
Quantity.
Cost per unit.
Labor cost.
Installation cost.
Miscellaneous or other costs.
The total estimated cost of each item.
Total actual cost.
Any discrepancy between estimated and actual cost.
Preview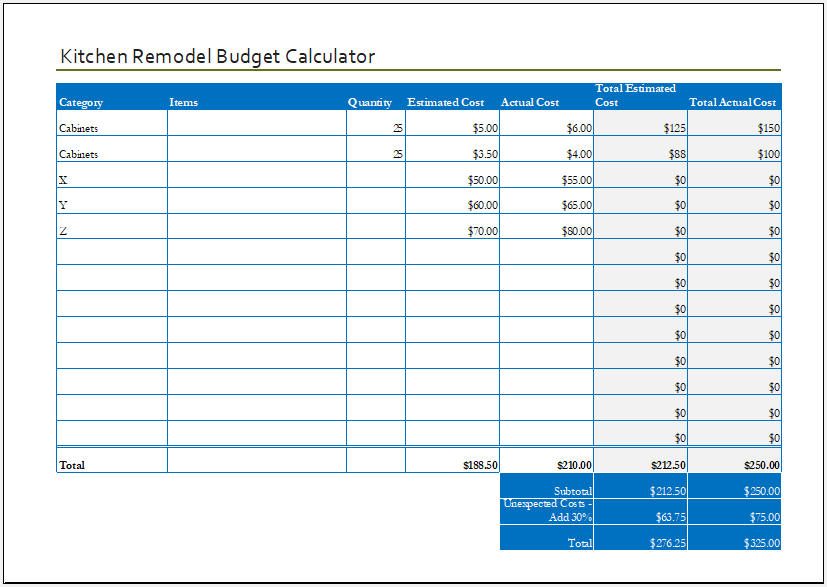 See also:
---