What is a fuel log?
Fuel log is a document which is used to keep track of consumption of fuel. This log can be used to keep the record on the daily or weekly basis. There can be many reasons for keeping an eye on fuel consumption such as cost planning or reimbursement.
There are many problems that a business can face when it comes to consuming fuel. You are in need to keep track of fuel consumption by your business so that you can control the unnecessary usage.
The fuel log is prepared and used in many organizations these days because unmonitored consumption of fuel can cost you so much
How to create a fuel log?
A fuel log is a very simple and useful document which simply keeps the record of the recorded fuel information and computes several details regarding it depending on which formulas you have put in. The log can be created in different file formats. However, use of MS Excel is the most appropriate for creating fuel log.
The creation of log starts by entering the name of the company and logo. The title of the log should also be mentioned at the top. Divide the entire log into different columns for collecting different types of information. The main details added in the fuel log are:
Date of noting the fuel information
The vehicle number which is consuming the fuel
The mileage of the vehicle
Type of fuel
The quantity of fuel used
Name of the driver
You can record the fuel consumption each day and calculate the total fuel consumed at the end of the month.
Benefits of fuel log:
You can easily get the information about the total fuel that has been used by the vehicle. This enables you to decide whether to cut back on current fuel consumption or not.
The fuel log organizes everything and makes it easier for the user to track the fuel consumption on any particular day. The fuel log is very systematic and organized software that can help you record everything with ease and comfort.
Sample Template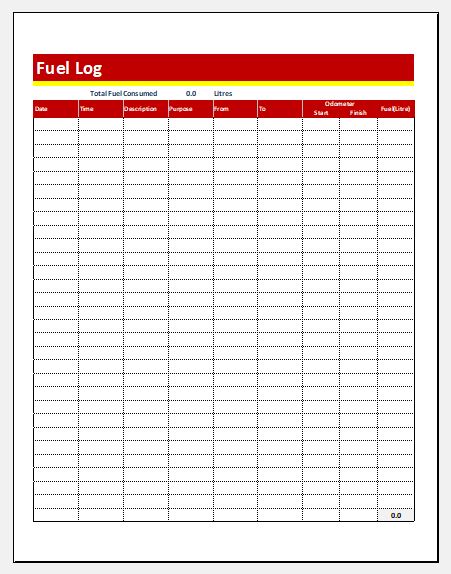 Format: MS Excel [.xls] | Download
---