An Eid shopping checklist is a document in which a person includes a list of things he or she needs to buy for the event of Eid. It is such an event in anyone's life that brings a lot of excitement and happiness in the life of people. There are so many traditions associated with the festival of Eid. Buying formal and fancy clothes, shoes and spending money on other items is very common.
Who can use the Eid shopping checklist?
If you are someone who does not have much time to arrange multiple shopping trips to the market, this checklist is definitely for you as it will help you manage your trips and save time.
In the busy life of today, there is so much on our minds running simultaneously. It is very common for us to regret several things and then regret them. Mostly it happens when we are in the market for shopping. When we are out for Eid shopping, we feel overwhelmed as there is so much to purchase. In such a situation, having a checklist is essential.
What are the benefits of the Eid shopping checklist?
Many people don't believe in staying organized and using any such tool that can help them save their time and remain on track is so difficult for them because they are so used to not using them. For such people, here are a few benefits that can convince them into using checklists for staying organized and for a variety of other purposes.
The Eid shopping list makes them shop on a budget:
This list is an amazing tool for those who have a tight budget. If you have only a limited amount of money to spend, you should make a list of things you can buy in that budget and then stick to it. This will help you save money as much as you have decided to save.
It helps people avoid impulse purchasing:
It is very common for people to feel distracted when they are in the market and buy something which they were not intended to buy. Unnecessary spending on the Eid festival is very common and the majority of people feel regret once the festival is over and they see they have broken their bank. To avoid impulse purchasing, you can follow the checklist strictly. This will support you to remain on the pre-set budget.
Eid shopping list is flexible:
There is no one shopping checklist that you can create once and then anyone can use it. The content of the checklist largely depends on preferences, culture, budget, and other aspects. So, you might want to change the list that you have found on the internet. This list is customizable and allows people to change it as per their needs. This way, it becomes easy for people to incorporate this shopping checklist into their agenda for Eid shopping.
Using a shopping checklist template for the Eid festival:
Many people don't even realize how much they have spent on shopping and get a surprise when they see that they have spent beyond their budget limitations. However, those who use the checklist are always aware of their shopping because of their spending habits as well as their needs. Due to this, nothing is surprising for them at the end of the day.
Using a template enables people to get their hands on a tool that is readily accessible and ready to use. They don't need to work so hard to make a list because it has already been prepared by someone keeping the Eid festival and relevant shopping in view. The template provides the checklist in a number
How to customize the template?
You will need to customize it when you want to add some more items to it and remove some of them also. For this, you should first consider your budget and must also be able to differentiate between your wants and needs. Then, add different items to the list but consider their price. Make sure you group those items that you can buy from one place as this will help you manage your trips to market.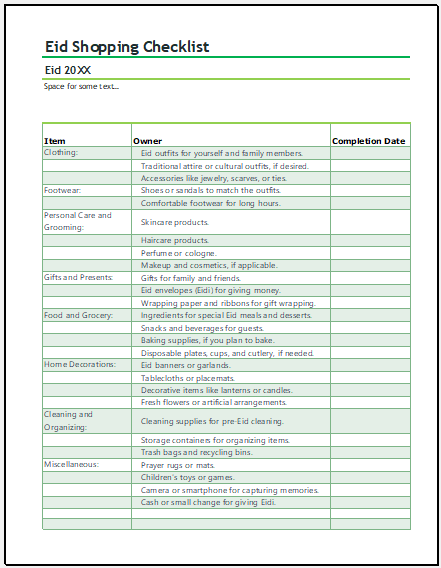 ---