What is a competitive analysis sheet?
If an organization wishes to evaluate the strengths and the weaknesses of its competitors, no matter they are the past ones, present ones or the potential competitors, the organization will have to prepare the competitive analysis sheet for this detailed analysis. This analysis is done by comparing different aspects of the business like strategic management skills, marketing skills, and key business skills.
Why this analysis?
This detailed analysis lets the company remain on top of its competitors. By this analysis, the organization can know in depth its lacking and the point of strength. Other than that, the main objective of this analysis is to know and understand the competitors. This can let them know what strategies they might be playing for marketing and management, other than the influence it will have on this organization.  A lot of the times, this data is easily available, all you need to do is to keep an eye on annual reports, press releases, brochures and patent applications, etc.
Template
The competitive analysis sheet will start with the name of the company and the product or service this comparison is taking place in. The standard analysis sheet is divided into four main sections, namely competitor profile, marketing profile, product/service profile and SWOT profile. For a better insight of this template, we have drafted it for you.
This analysis sheet should include all the main competitors the industry has in the market other than a summary of all of the products or services that needs to be compared, detailed analysis of all of the strengths and weaknesses of the business and the competitors, an overview of the strategies used by those competitors in the past for the marketing and management of these products or services and an overview of projection for the future. We have a basic template of this analysis sheet.
Preview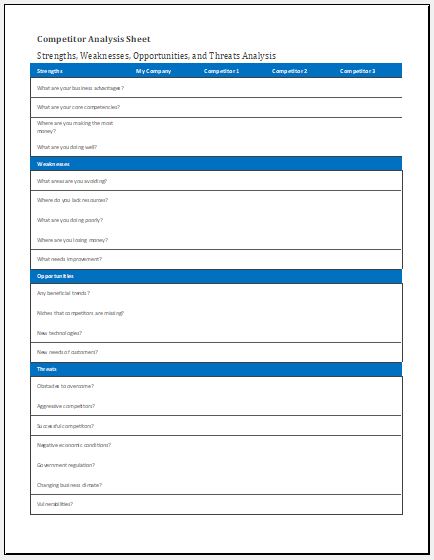 Competitive Analysis Sheet Template
Format: MS Excel
Size: 20 KB
Download
---
---