There are a lot of costs associated with the remodeling of any part of your house. Typically, remodeling the bathroom can cost you several thousand dollars depending on how you want to do it and what type of look you want to impart. Remodeling of the bathroom includes fixing tiles, sink, shelving, plumbing, and electric work.
There are many options available to a house owner when he decides to remodel the bathroom of the house. The budget of renovating the bathroom depends on the style you want to get. As a matter of fact, remodeling the bathroom is one of the most costly processes in the entire house remodeling project. However, there are several things that you can do in order to cut the cost.
The remodeling of the bathroom should always be started with gathering the information regarding the remodeling cost and then planning the budget. It is recommended to plan everything ahead of time before you hire any contractor for this project.
Why use the bathroom remodeling calculator?
Estimating your budget and then planning everything related to renovation is a bit tricky. The first thing to consider while calculating the bathroom remodeling cost is the size of the bathroom. The things you want to fix in your bathroom such as a sink, tiles, etc. often differ in price depending on quality and design. You can choose any type of fixture in the bathroom that suits your budget.
What are the benefits of using the bathroom remodeling calculator?
The primary benefits that you can avail by using the remodeling calculator are:
The remodeling calculator enables the user to calculate the exact amount that is required to conduct the renovation of the bathroom
The user of the calculator can know the exact cost which enables him to take several steps to cut down the cost so that the remodeling can be done quickly and with complete accuracy
There are different variables that are required to be provided to the calculator for the calculation of the cost. For example, you can input different rates of the bathroom tiles to know the cost. This will help you know how much you will have to pay if you choose a particular type of tiles. This is the best way to choose the quality of bathroom fixture
This calculator saves the user from manual calculations that can be time-consuming and are subject to many errors. It calculates everything automatically once the details it requires are provided to it.
Bathroom remodels cost calculator template:
If you want to calculate the cost that you will have to incur while renovating the bathroom, you can choose the cost calculator. A cost calculator is a readymade tool that requires the user to fill in the required fields and it displays the results. The calculator template is available on this website for free use. This template is highly effective for people who don't have any idea about how to calculate the cost.
Preview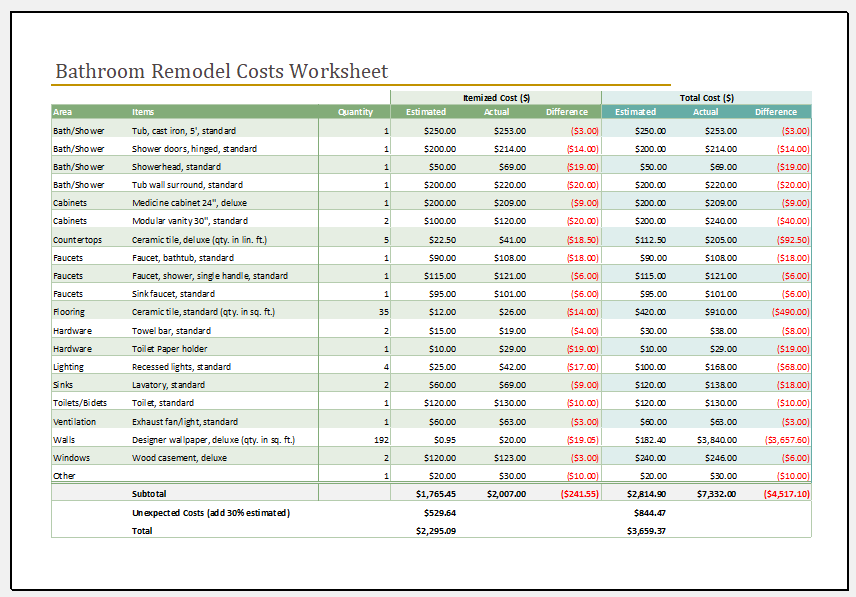 Format: MS Excel [.xls & .xlsx]
---