Festivals and events are celebrated to promote harmony and togetherness among people. These events bring people close together and allow them to open up to one another and share their views and opinions about life and other worldly matters. Even at educational institutes, the administration comes up with different ideas to arrange events and include students as much as possible.
Welcome party refers to the event celebrated to welcome someone either at home, with family or institute, or any other place. It is majorly conducted to make the newcomer feel welcome at a facility and introduce him to existing members. Welcome parties are mostly organized by educational institutes with new batches and sessions of students every year.
A comprehensive worksheet…
A welcome party budget sheet refers to the document used as a tool to record the money spent on tasks required for a successful welcome party. The whole party is divided into smaller tasks to note down how much money is required in total. A budget is an allocated amount of money that can be used for arranging a welcome party or any other event.
Contents of the budget sheet vary according to the theme of the welcome event because it requires extra preparation for a specific theme. Generally, a budget sheet includes the following information,
Theme of party
Name of organizers
List of tasks
Date and venue of the event
Total amounts spend on party
People invited
These contents are arranged in an organized manner. Worksheets are comprised of columns arranged in a tandem pattern where each column represents a category.
Sample worksheet
A sample for a general welcome party budget worksheet is given below,
Welcome Party Budget
Date: __/__/__
Theme: [TEXT]
Organized by: [NAME/Group]
No. of guests: [#]
| | |
| --- | --- |
| List of tasks | Budget |
| Decoration | |
| Invites | |
| Food & drinks | |
| Furniture | |
| Gifts | |
| Drama shows props | |
| Bouquet for chief guest | |
| Games | |
This sample provides a general view of any welcome party budget worksheet, but it can be altered to include more categories. These categories can also be divided into subcategories to further evaluate the budget.
Worksheets are considered an integral part of planning and organizing an event because they help in numerous ways. Some of the ways of worksheet's importance are given below,
The worksheet helps in recording data in an organized manner.
It keeps organizers updated about their expenditures.
If the budget is getting out of hand, worksheets provide a graphic view of all the extra stuff that can be eliminated to save money.
Worksheets can be prolonged for unlimited addition of categories.
Format & layout
Usually, it is not difficult to make a budget worksheet therefore, it is preferred to make a sheet either as a hard or a soft copy. It can be shared among organizers to keep a keen eye on spending money.
Moreover, the internet provides a variety of themes in worksheet templates which makes it easier for the user. These templates can be easily edited in editing applications and are free of cost.
Since the internet is used by billions around the world, people prefer to facilitate other human beings by uploading their templates and saving time and money for others.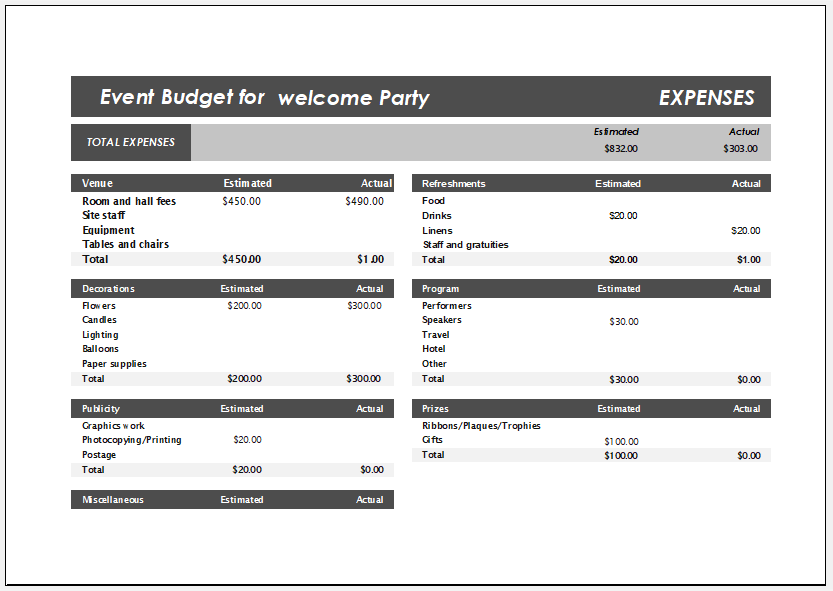 Excel Templates
---