Home is a necessity of life. There comes a time when you need to do some kind of construction in your home to make it look more beautiful and comfortable. If you have got enough money, you may also plan on constructing the entire new home.
Construction of the house can get very costly if you will not plan everything ahead of time. It is essential for you to know how much each aspect of the construction will cost you.
Home construction expense calculator is a spreadsheet that is used to calculate the exact cost that will be incurred during the construction. The expenses related to construction are unpredictable.
However, it is important to have a rough estimate of these expenses especially for those people, who have limited resources.
What is the purpose of using the expense calculator?
The expense calculator is basically used to track the estimated costs, details about payment, variance, due balance and a lot more.
Benefits of using expense calculator:
This sheet is very useful for you if you want to get a clear idea of the total cost that you will incur on the construction of the home.
It also enables you to keep track of all the payments that have been paid and also those that are yet to be paid to vendors.
It helps avoid the situation of getting out of the budget because of not having the idea of cost beforehand.
The expense calculator for the construction of a home can be used for tracking the cost of remodeling the entire project as well as the project building. While using this calculator spreadsheet, it should be ensured that all the necessary details have been added to it.
Missing any detail may result in an inaccurate budget estimate that can consequently cause a lot of problems. It should be designed in such a way that it can cover all the aspects of construction from purchasing the building material to paying the labours. With the help of this calculator, you can also plot graphs to show the cost ratio.
Preview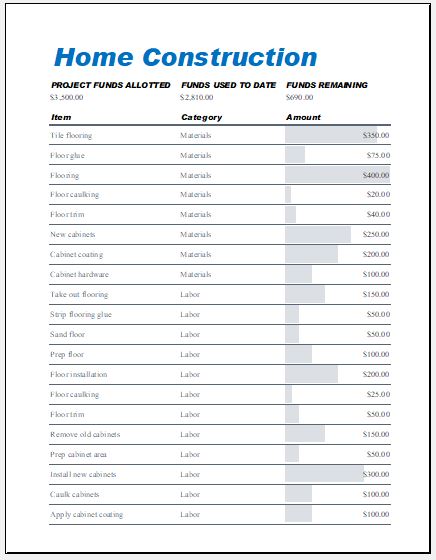 Home Construction Expense Calculator Template
Format: Microsoft Excel 2007-2013
File Size: 35 KB
---