Your vehicle is a very expensive asset, and it is very important to care for it if you want to see it in the best working condition. However, no matter how much you take of it, it will need necessary repairs over time.
After you have run your vehicle a certain thousand miles, it will need repair and maintenance work. Sometimes it shows different signs when it needs to be repaired. While in many cases, the owner of the vehicle has to be extra cautious about the problems that become huge when they are resolved at an early stage.
Just like the maintenance work of the vehicle, your vehicle will also need repairing work once you have hit it somewhere or used it badly. The repair work is also needed when you don't pay attention to one of its parts that needed maintenance and now it has totally broken down. The repair work can be external or in the engine of the vehicle.
The vehicle repair worksheet enables the user to keep track of the repair work that has been done on the vehicle. The repair work is mandatory to keep track of because it enables the owner to determine the health of the vehicle.
Benefits
This worksheet is being used extensively because of the benefits it comes with. Some of these benefits are:
It is essential for record keeping:
For some people, it is important to know how much they are spending on the repair work. This way, they can see whether it is economical for them to keep that vehicle, or they should change it. Some employees who use the vehicle of the company can apply for the reimbursement of the workshop expenses if they have paid the money from their own pocket. They will need a record sheet to see how much they have paid.
It keeps vehicle owners stressed free:
When your car is old, you might be worried about repairing its various parts. The worksheet has various fields that record the details of each part that has been repaired and when. So, if you don't remember whether you have repaired a specific part and stay worried, it is time to download this worksheet
It is customizable:
You might want to do the repair work differently and there might be different things you would like to record. In this situation, you will have to customize the worksheet in order to make it suitable for your needs. This worksheet is prepared in MS Excel file format and allows the user to bring changes to it before it is printed.
The template:
On various websites, the template of the repair record is available. This worksheet template is the best tool for those people who don't have time for creating this worksheet from scratch. It is also best for those who don't know how to keep tabs on the repair work their vehicle undergoes.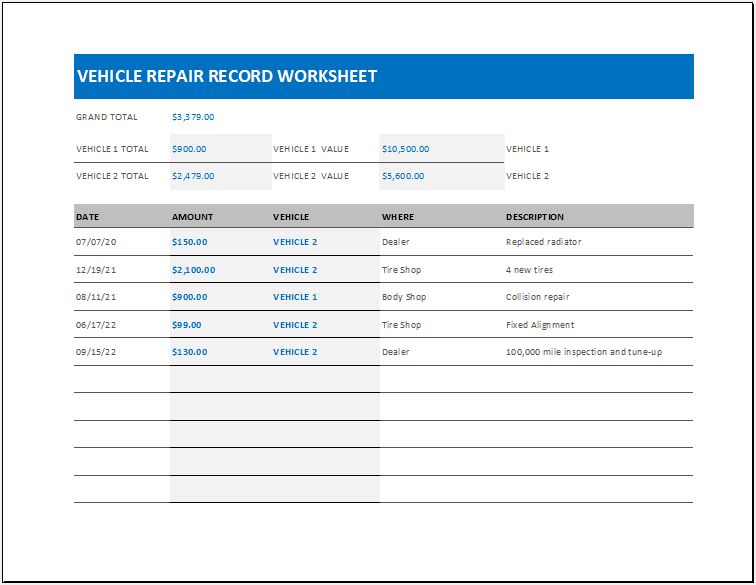 ---