Calculation of all the expenses in a wedding is one of the most integral parts of the wedding planning. With the use of event expense calculator, you can easily get the information about the size of your budget. Wedding events are supposed to be the most expensive events. However, you can make them quite affordable by keeping a check on expenses.
What is an expense calculator?
Expense calculator is a spreadsheet template that has some built-in formulas to help you in the calculation of wedding event-related expenses.
Planning anything related to expenses requires you to have a good business sense. The expense calculator is such beneficial worksheet that can be used by anyone even if they have no business sense.  
The wedding expense calculator worksheet includes a list of items that you may be in need to consider while planning your own wedding event. This spreadsheet has a tremendous estimating tool that enables you to specify your low budget planning.
After seeing your affordability and low budget requirements, this calculator worksheet adjusts the percentage of the budget that you should allocate for planning a wedding event.
The planning of event in this worksheet can be done in a simpler way by categorizing different expenses. Some of the major categories of this calculator worksheet are apparel expenses, reception expenses, flowers expenses, meal and a lot more.
Benefits of expense calculator worksheet template:
The printable and easy to download wedding expense calculator worksheet template can be downloaded from this website.
It also contains a guest list that you can use to trim your own guest list as nothing increases the cost of the wedding but the huge guest's list.
There is a detailed list of items that have been predefined in this template. You can use that list to tally with your list. It will enable you to cut down many unnecessary expenses.
Whatever you pay to the vendor, enter it in the expenses calculator worksheet. This worksheet will calculate everything for you.
It will keep updating about the costs you have incurred at every step just to keep you aware of your budget line.
Preview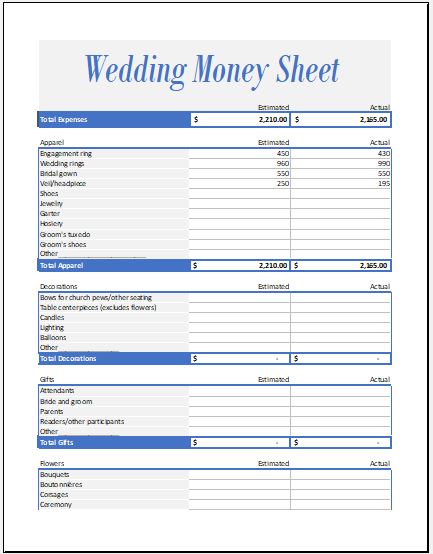 Wedding Expense Calculator Template
Format: Microsoft Excel 2007-2013
File Size: 19 KB
---