During the summer we definitely want to spend our time productively. If you have vacations, you will not want to waste these lying around doing nothing. The same case is present if you have children and they have holidays in the summer. To be more productive in the summer you can plan exciting activities to do.
What is the Summer Activity Calendar?
A summer activity calendar is a calendar that lets one save events to do during the summer months. It allows one to be productive during the summer and remember any important events that they need to take part in.
If you need to create a summer activity calendar template, you can consider the below points:
Microsoft Excel– This template is an accessible one. In Microsoft Excel, you can get an attractive summer activity calendar made. Select the starting year then add events.
Heading– The calendar needs a heading. This one can have a heading like "Summer Activity Calendar." In this way, everyone will know what it is for.
Year– The year that the calendar is applicable should be stated as well.
Months required– Include the months you need for summer. This will probably be June, July, August, and September.
Days of the week– Also have the days of the week stated at the top so that you know on which date is what day.
Area to fill in activities– In each square of the date, there should be some space for you to fill in any activity. It should not be too much space but must be sufficient.
Seasonal images– To make the calendar look presentable let it have seasonal images. You can have images relating to summer, like a beach. A cartoon airplane image may also be present. Include fresh and eye-catching images on different areas of the calendar.
Should look presentable and attractive– You will probably want to stick this calendar on the fridge or on some wall. Therefore, make it look attractive and presentable. Do not include too much information that you become confused. If you have children, they must be drawn towards reading it and seeing what to do on a certain day.
Advantages of the template:
A summer activity calendar template has the following advantages:
Let you save important events you need to attend during the summer. Therefore, you will not forget any event.
Allows you to plan your summer productively.
If you have children, you can plan exciting activities for them to do during the summer and note these on the calendar.
Final Words:
A summer activity calendar template is a helpful calendar that can allow you and your children to spend summer doing fun things. You can do what you plan to do without leaving out any exciting activity. It is an attractive looking calendar that can easily be filled in and stuck on the fridge. It can easily be filled in when required.
Preview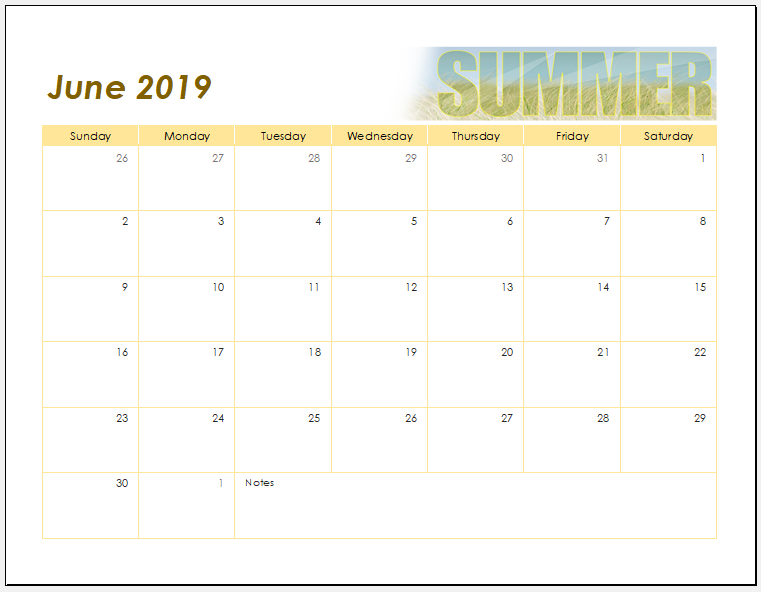 Format: MS Excel (.xlsx) 2007/+
File Size: 89 KB
---