What is cash flow worksheet?
A cash flow worksheet displays the inflow and outflow of the business in a summarized way. The worksheet is intended to provide ease and convenience to people who are running a small business. The cash flow of a small business is generally very brief. The template used for making the cash flow worksheet for a small business is a simple spreadsheet document that mentions everything accurately.
Cash flow worksheet is a fundamental document that gives a business a clear picture of how the business actually generates the cash in an attempt to pay its debts and fulfill its other related obligations. The cash flow statement usually collects the data from the income statement as well as the balance sheet in order to give the desired results. Anyone wanting to see the financial footing of a business can see its cash flow worksheet.
Cash flow is an accountancy term. Cash flow basically refers to the difference in the amount of cash at the time of opening of balance and the amount at the time of closure of balance. Cash flow can either be negative or positive. It does not always depend on the progress of a company whether its cash flow is positive or negative. It is positive if the cash flow is higher than the beginning flow, otherwise negative. There are factors that help increase the cash flow which includes taking loans, rising prices, reducing costs or selling assets etc.
A cash flow worksheet is an important document for business people since it records the cash flow details and helps to make cash flow statements. Making cash flow worksheets is not mandatory as a business policy but it is suggested as it helps in making other financial statements which are sometimes to be made public as in the case of public companies. Let us now know what a cash flow worksheet looks like;
A cash flow worksheet is not a complex document in appearance, though it is very complex in actual as it affects important financial documents. There are just two sections of a cash flow worksheet
Balance sheet effect section
Cash effects section
Making cash flow worksheets makes the process of making final cash flow statements easy. Cash flow statements can sometimes be used as legal documents so it is important to make sure that the cash flow analysis worksheet is made such that to avoid any errors as this will directly affect the cash flow statement.
Below is a standard cash flow analysis spreadsheet template. Being instant to use and modifiable, they can help you make a perfect cash flow analysis worksheet.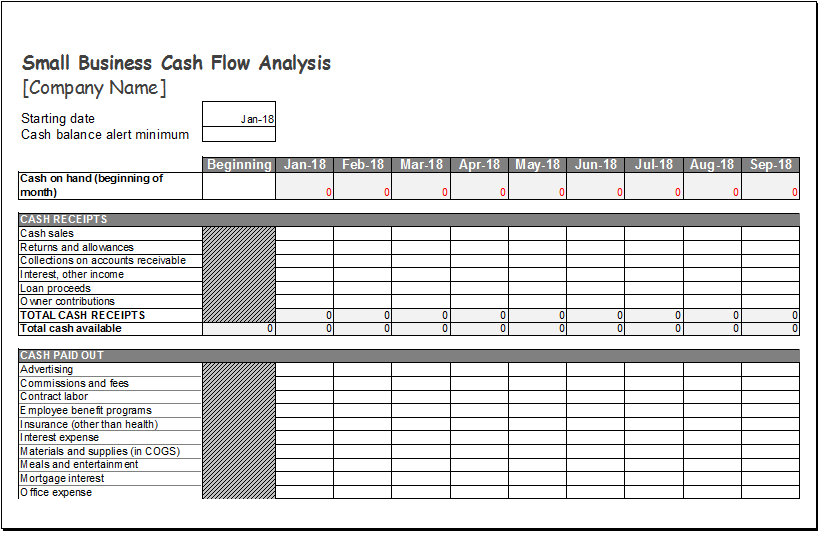 Download your file below.
Cash Flow Analysis Worksheet Template
File Size: 25 KB
Download
What is the purpose of using the worksheet?
The cash flow worksheet prepares a cash flow statement for a business that it can show to the investors who are planning to invest in that business. This worksheet tells the investor how a business generates the cash, how it spends it and lots of other details.
In this way, the investor can decide whether to invest in the business or not. This worksheet is also helpful for the creditors when they want to know the capability of business for paying off the debt.
What is the cash flow worksheet template?
There are different methods that are generally used to keep track of the cash flow. The type of method to be used completely depends on the business type and its needs. The template is helpful for small business owners who want to prepare a summarized cash flow history for their business in no time.
Furthermore, the business owner is not required to have additional knowledge of accounting and about making the cash flow statement since this template provides a comprehensive and readymade cash flow worksheet.
---