We all know about the modern day financial statements. The most commonly heard statements are the income statement and the balance sheet. These statements tell us about the financial performance and financial position of the company. But these are not the only financial statements a company needs; the financial statements also include the cash flow report.
Having a good cash flow statement is very important as it means that your business is up and running. Cash flow statements are not only meant for internal use, but they can also be useful for the potential investors.
Not having cash in a business can be a disaster. If your business is short of cash, the employees will become insecure, the vendors might stop giving you credit and the customers will not get more innovation in the products they want. There might be situations where the business will be profitable but even then, there will be a shortage of cash.
The importance of financial statements varies from business to business. For big companies, statement of financial position and financial performance might be more meaningful but for a small business, a cash flow statement will be more valuable.
Your profit & loss statement mostly tells you about how you performed but a cash flow statement tells you, in more details, that where did your money go. If you focus on your profit & loss statement, all you are looking at is how to increase or manage your losses. This takes you away from your real focus that is the cash.
Cash flow statement will also help you make better decisions for the future regarding every aspect of your business.
A cash flow statement might sound technical but it can be prepared for a year. It has three major heads such as the cash flow from operations, financing and investing. These major heads can have further subheads which will include all the cash coming and going out of the business. The totals of all the heads will show a positive or a negative trend which will be a representation of the yearly inflows and outflows.
Following is given a cash flow report template. It will help you monitor your cash flow for twelve months.
Preview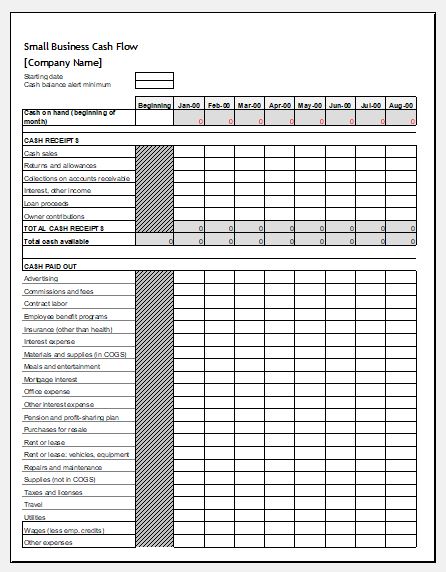 Cash Flow Statement Template
File Format: MS Excel [.xls]
---