Every dog lover knows how much effort it takes to grow a puppy into an adult dog and give him the necessary training to transform him into a well-behaved animal. Some people keep pet dogs because they love dogs while some have some other reasons such as pet therapy and pets as service dogs. Regardless of the reason, they need to take care of their dogs on a daily basis because, like humans, they have to be fed daily and protected from various diseases.
What is a daily dog care checklist?
This checklist is a document in which lists of tasks are mentioned in order of what is important to be accomplished to ensure that you provide necessary care to your dog. This checklist is even more useful for people who have never kept a pet before and don't know about the needs of the pet.
In what way a checklist is helpful?
Having a pet dog is not all about playing with him, feeding him, and providing him with a place to sleep. There is so much that you need to do in order to be a good and empath dog owner. Your dog should be healthy and clean as long as he stays with you. If you think that you are missing out on something really important regarding the care of the dog and you don't know what it is, it would be better for you to use a checklist as it will not let you forget anything.
Many such people don't have time for their pets and they want someone else to take care of their dog in their absence. They can use a checklist.
If you are an expert at taking care of your dog and you have your own best practices for giving care and love to your pet, you can make a checklist with the list of things you do daily for your pet and hand it over to your servant who you have hired for giving dedicated care to your animal.
What is included in the dog care to-do list?
If you want to create a checklist of your own, you should know what you can include in it to help you take care of your dog in an effective way. In addition, you should know what activities are considered dog care activities. Here are some important parts:
Pet feeding details:
This part of the checklist reminds the user how frequently they should feed the dog and what should be fed. To maintain the good health of the dog, feeding is the most important thing to be kept in mind. This will show how effectively and diligently you take care of your pet.
Exercise details:
People who want their pet to be in its best shape and remain active usually involve the dog in physical activity. Their checklist of pet care daily reminds them of making their dog exercise and play daily.
Healthcare details:
A pet owner should know that it is your responsibility to take care of your pet's health which involves giving regular checkups at the vet's clinic, administering necessary vaccination to the dog, giving medication for efficient treatment, and much more. It also includes taking note of the behavior of the dog and reporting any change in the behavior that points to discomfort or any other problem with the health of the dog.
Safety details:
Your pet needs safety and protection from unauthorized access, harsh weather conditions, and other toxic things placed close to him. The checklist reminds the user of everything that puts the safety of the dog at stake. This way, the owner can take necessary steps to ensure that the dog is protected and there is nothing harmful in his vicinity that can cause damage of any sort.
Checklist template:
A template provides a pre-designed checklist that can be used by anyone who does not want to create a checklist from scratch. It is usually prepared by experts who know what the care of the dog looks like. Following a template will never make you regret it because it covers every necessary detail.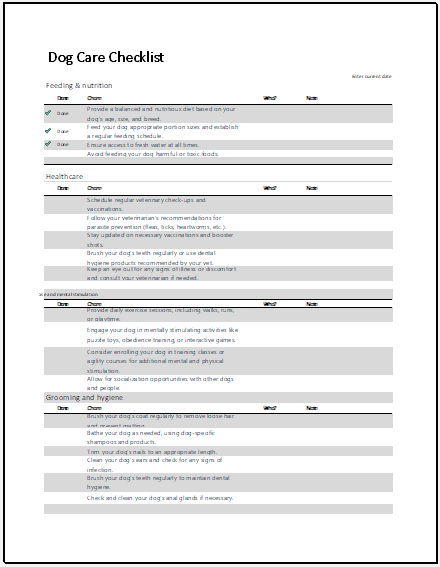 ---