Being a student who is away from his home and his family is not easy at all. You have to deal with a lot of things on the personal, professional, emotional and financial level. You are not earning and this makes you vulnerable and dependent on your parents. You have to deal with the fees of the college, hostel, mess, transport, outing with the friends, notes and especially events that pop up out of nowhere. You get a specific amount from your home as a stipend for your college budget. You have to make sure that you use it well and not become moneyless at the end of the month. For a college student, a budget template not only contains not only the expenses but the sources of income as well.
What is a college budget template?
It is a template that is designed for the college students so that they can manage their income and expenses including the college fee, tuition fee, and other expenses.
What are the things to be kept in mind while making a college budget template?
Make sure that the numbers you are using while making the template are accurate.
You have to look at the bills including the cell phone charges, the mess, the tuition and college fees, the notes and stationary charges, and the transport charges as well
In the template, make a column for estimated budget and the other one for actual budget.
You can use this template for managing your yearly budget as well.
At the end of the month, you can compare the difference between the actual and estimated budget. The difference will allow you to save money for future usage.
You can compare the budgets of each month as well.
Once done with making the budget template, make sure that you follow it as well. Borrowing money is not a proud thing to do. If you borrow it with interest, paying back won't be easy at all. So use the template given below by our team that would help you save the money and bring your life into a streamlined flow.
Preview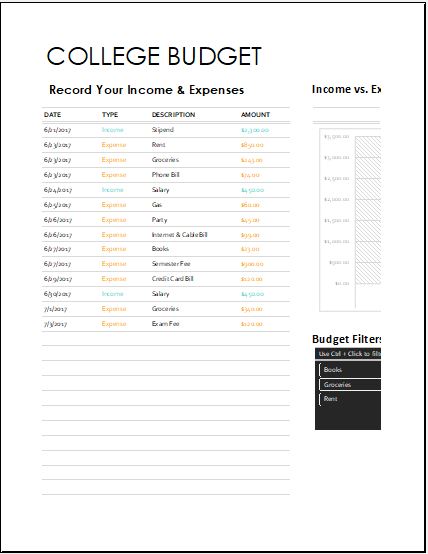 ---