Anyone who is going to start a new business always thinks about how much money is needed to do that. Sometimes, a person does not succeed in running a business successfully because of not being able to meet the expenses in the first few months right after starting the new business.
The failure of a business is less likely to happen when you can calculate all the costs that you will have to incur for a business start-up.
Companies have invested many millions of dollars in running their business effectively, for a new businessman it is really difficult to assess how much cost is needed to take the initiative. A sophisticated information system and rigorous analysis of a range of functions are required to begin a business tactfully. Having a well-informed concept about startup costs, and awareness of unforeseen expenses can help you to determine where you stand.
The key is to dig out your business expenses as individual elements. First of all, it is better to develop inventories for your initial investment. It is functional to categorize your list under different titles. Once the lists are prepared, you can jot down some forecasted costs via your educational perspective or market survey. Lastly, add all these costs to get a grand total for your business startup.
What are common business start-up costs?
Researching
Getting legal advice
Installation of internet facility charges
Licenses fee
Purchasing Equipment
Hiring staff
How much exactly it is going to cost totally depends on the type of business you are going to start. Sometimes, the industry to which your business belongs also put a big impact on the cost. For example, you may have to invest less in an online business than in opening a shop.
It seems very daunting when it comes to considering all the costs you are going to incur in the business start-up. Planning for every big or small cost makes it much more complex. Even if you have calculated the cost in detail, you may face different results.
The estimated lists and the forecasted expenses can add up to give you a rough figure for your initial investment cost, to ease these calculations online business calculators have been developed.
The Calculator:
Although you can get a rough estimate, it may make you expect a lot of unrealistic things which is going to hurt you in the long run. The use of the calculator will help you expect everything realistically. The use of a business start-up calculator can help you get a quick and more accurate idea about the expenses of a business start-up.
The calculator's pre-defined formulas make the calculations easier for you. The calculator also reminds you of those expenses that you may have forgotten to include in the start-up costs. All the costs that keep your business running are considered by the calculator. This makes it much more appropriate for your business.
A business start-up cost calculator template is available on different websites that include legal fees, supplies, equipment price, and other types of funding needed to be done in order to start a business.
You can download these business startup calculators to take help in investment calculation. The template will let you comprehend both the fixed and variable costs. These calculators will tell you about the one-time or constant expenditures (like billing and payments) in separate sections so that you can easily analyze their significance and add them up to have an estimated business startup figure in your mind.
Preview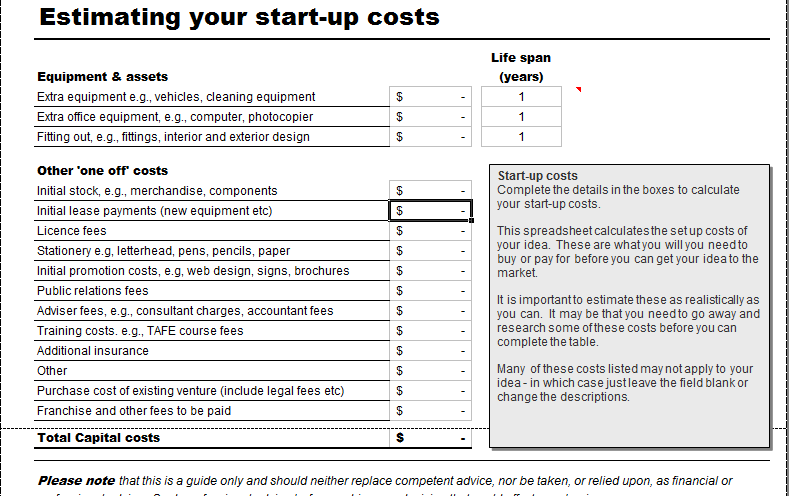 Download your file below.
Business Start-Up Cost Calculator
File Size: 99 KB
Source: www.nab.com.au
---