BALANCE SHEETS FOR EXCEL
At the end of a month, a person is required to have a look at his business. The day balance sheet is the snapshot of his business. You can get all the information about your asset, liabilities, capital and net profit with the help of opening day balance sheet.
If you do not have any opening balance sheet with you, you will not be able to estimate your profit or loss at the end of the month. You may want to get a template for your opening day balance sheet so that you can keep track of what you have earned throughout the month. The excel balance sheet template is an excel sheet that any businessman can use to estimate his business position.
You can download this template free of cost from the internet. The opening day balance sheet in excel has been customized and designed in such a way that it can meet the demands of every business organization. This template has an ability to fit into any kind of business. It can be a very precious and valuable asset for people running a business. You can keep the record of your business in your hands always and in this way you can make your finance go smoothly.
The template has made the lives of businessmen slightly easy. Now they don't need to get into any complication. They are just required to download the template and use it.
OPENING DAY BALANCE SHEET TEMPLATE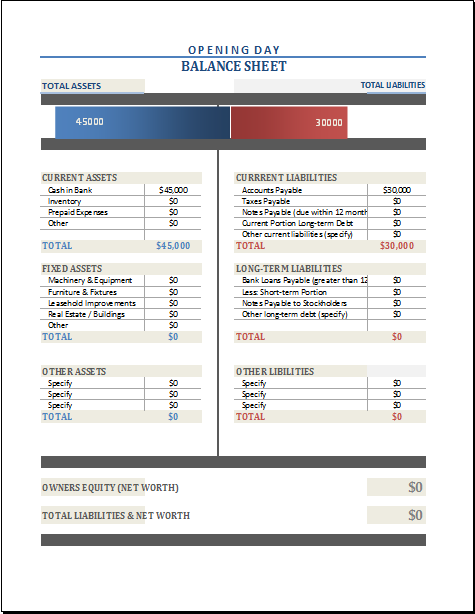 Download your file below.
File Size: 42 KB
Download
---