Wedding Budget Planner
A wedding day is the most important and memorable day of one's life span. It comes only once in a man's life. Every person wants each and everything to be just perfect for his/her wedding day. A perfect wedding day occurs with the perfect wedding planning in your planned budget. There are many wedding planners available in the market that assists you in planning your wedding so that your big day can become a precious memory. You can also plan your wedding by your own self by using the wedding budget planner.
These templates are created using software on a computer. It will enlist all the items or things related to the wedding along with the estimated cost. Using a right wedding planner can save your money and prevent you from overspending.
The typical wedding budget planner template consists of apparel, photography, venue and dinner. In apparel, you have to include bridal dress, shoes, jewelry, groom's tux etc. In photography you have to take care for the bridal solo portraits, groom's solo portraits bride and groom's portrait and videography of the entire event. In the venue, you have to include location fee, the decoration fee, and another miscellaneous arrangement. In dinner category, you have to include the fee of a caterer, tables/chairs, the food, security, music sound system, guest parking, and waiters. The other miscellaneous arrangements may include the cost of a wedding ring, the cost of invitation cards, and cost for bridal makeup and hairdresser for the groom.
Wedding Budget Calculator
A wedding is the most important and memorable event of a person's life. Every person wants to make his wedding event happen in a lavish style as this day comes once in a man's life. Wedding budget planning is a very difficult task as there are a lot many things that constitute a proper wedding plan. The cost of a wedding event can be increasingly high owing to venue cost, the dinner cost, the arrangements for guests, the decoration, the bride and groom's dresses etc. As there are many things to be included in wedding plan. A manual calculation of cost can be useless if a person forgets to add the cost of anything or if he does some error in calculation.
In order to assist people with their wedding budget, nowadays wedding budget calculators are available on the internet. You just have to put numeric values against each of the titles and then at the end, you will get the exact amount of cost needed to be spent on a wedding.
This wedding budget calculator is available in MS Excel format with all formulas built in. You just need to enter figures and the rest of the task will be done by the software. With this wedding budget calculator, you can not only calculate the total expense but you can also calculate the amount to be spent on each entity. You can put your estimated budget in a figure and it will auto generate the amount to be spent on a single entity.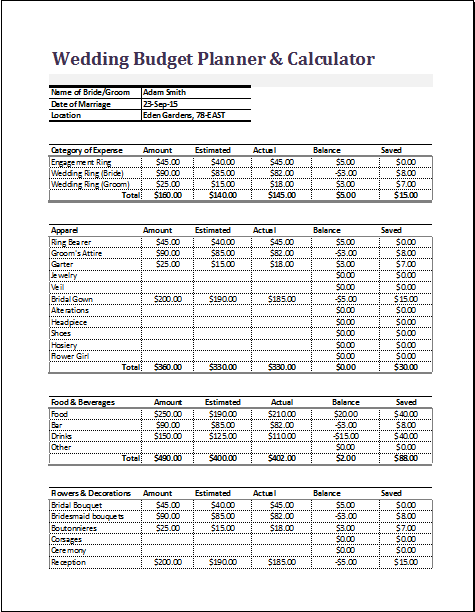 Download your file below.
Wedding Budget Planner and Calculator Template
File Size: 70 KB
Download
---